Running Time: 1:45
Rated R
for strong sexual content, crude humor, language and drinking.

Starring
Jason Biggs
as Jim

Chris Klein
as Oz

Seann William Scott
as Stifler

Thomas Ian Nicholas
as Kevin

Eddie Kaye Thomas
as Paul Finch

Alyson Hannigan
as Michelle

Mena Suvari
as Heather

Shannon Elizabeth
as Nadia

Tara Reid
as Vicky

Natasha Lyonne
as Jessica

Chris Owen
as Sherman

Jennifer Coolidge
as Stifler's Mom

Eugene Levy
as Jim's Dad

American Pie 2 is hands down the funniest movie of the summer. I can't wait until they make part 3.
The entire gang from American Pie returns for the fun filled sequel. This time the gang has finished their first year of college and is hanging out for the summer. Jim (Jason Biggs), Oz (Chris Klein), Finch (Eddie Kaye Thomas), Kevin (Thomas Ian Nicholas) and Stifler (Seann William Scott) all head to the lake to spend the summer partying. Jim is obsessed with figuring out if he's any good at sex and if not, how to go about changing it because the one woman he wants to impress Nadia (Shannon Elizabeth) is coming to visit and Jim doesn't want a repeat of what happened last time. So he goes back to the one women who would know the answer, the flute playing Michelle (Alyson Hannigan). Oz is still the same Oz, in love with Heather (Mena Suvari) and dedicated to her, even while she's in Paris for the summer. Finch is still obsessed with Stifler's Mom (Jennifer Coolidge) and starts practicing Tantric for the moment when the two of them will be together again. Kevin is still in love with Vicky (Tara Reid) but she just wants to be friends. And Stifler is still a hound dog looking to screw everything that moves. Also back for the sequel are Jim's Dad (Eugene Levy) still trying to be the coolest father around, Chris Owen as Sherman, or as he calls himself the Sherminator, and Natasha Lyonne as Jessica whose role in this movie isn't really fleshed out, but she's always a treat to see on screen.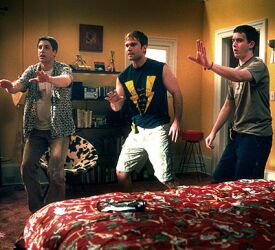 The various story lines are interesting, but for the most part the focus is on Jim and his quest to be the perfect man for Nadia, in bed at least. The two funniest scenes in the movie involve Jim. The first one with him, Stifler and Finch wanting to see a couple of lesbians get it on, and the second when Jim accidentaly superglues himself to well himself. I hope Jason Biggs got some extra cash for some of the things he had to do in the film, including having a trumpet stuck up his ass. I am really starting to like Jason's acting, even if some of the movies he's been in haven't been all that good. Another stand out in the film was Alyson Hannigan reprising her role as the ultimate band geek. When she speaks about Jim lovingly to her fellow band mate and says "He's my bitch" you can truly see the love in her eyes. I also enjoyed Seann William Scott as Stifler. After seeing Scott in a few films, I think he was born to play Stifler.
There were some truly gross moments in the movie, one dealing with Stifler yet again early on in the film. In the last movie he drank something that comes from a certain region of a male body (did I say that delicately enough?) and this time it's the same region, just a different fluid. A very cringe-worthy moment that lasted longer than it should have, which made it that much more hilarious. The scenes with lesbians and the superglue had me busting out laughing. I haven't laughed that hard I think since I saw the original American Pie. Yes the humor was sophomoric at best, but it was high class sophomoric and I had a very good time.
It's impressive in this day and age that an entire cast is re-assembled for a sequel. Most of the time after a major hit film like the original was, the asking price for the actors goes up. Witness Vin Diesel making the jump to a 10 million dollar man after the runaway success of The Fast and the Furious. However the good news for filmgoers, if not good news for the actors, almost every single film done by the American Pie 2 actors in between the two films has tanked (except for the mid-level success of Seann William Scott's Dude Where's My Car where mysteriously enough he again kissed one of his co-stars). Also you could see that some of the actors were busier than others since Mena Suvari's scenes were few and far between as were Tara Reid's and Chris Klein's. Hopefully these guys will all learn to pick better roles in the future and capitalize on their successes in the two Pie films.
So overall if you're looking for a good non-thinking laugh out loud comedy, go see American Pie 2. By far the funniest movie I've seen in a very long time. And go vote for you who think is the hottest girl and guy from American Pie!
---
For pictures of Shannon Elizabeth, Alyson Hannigan, Tara Reid and Mena Suvari, visit the Gallery.
Got something to say? Say it on the Message Boards. No password needed!
Click on the link for more information on
Screenwriting,
Home Video/DVD, and
Film Making.