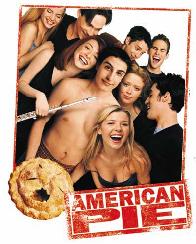 B+
Directed by Paul Weitz
Running Time: 1:35
Rated R for strong sexuality, crude sexual dialogue and language.
---
Bye Bye Miss American Pie... wait a second... Somehow I don't think this American Pie is what Don MacLean had in mind when he wrote the song. This movie is full of teenagers in heat, beautiful women, and of course, apple pie. It was funny for the most part, got a little too serious at the end, but overall pretty fun to watch.

From the opening scene of young Jim (Jason Biggs) masturbating into a sock, to the final, "Say my name Bitch!" (that line still has me laughing), American Pie is the kind of teenage movie that needs to be made more often. I think, although a little exagerated, this movie was more like what high school was than something like She's All That or Varsity Blues. 4 guys just trying to get laid, and learning more about themselves in the process. Along with Biggs, Chris Klein, Thomas Ian Nicolas and Eddie Kaye Thomas round out the guys, with Tara Reid, Alyson Hannigan, Shannon Elizabeth and Mena Suvari some of the lovely ladies of affection. Basically the four guys, tired of being virgins, make a pact they by graduation, they will have all had sex. The make prom night their last possible night and all avenues lead up to there. Jim (Biggs) wants the beautiful exchange student Nadia (Elizabeth) and gets her... sort of. Oz (Klein) decides to go the softer route and go after the jazz singer type Heather (Suvari). Kevin (Diggs) and Vicky (Reid) are already dating, so they're meant for each other, or are they? And of course ths suave Finch (Thomas) starts planting rumours of himself around school with the help of Jessica (Natasha Lyonne). When prom night comes, find out who gets lucky, and who doesn't.

We're not talking world class acting or plot in this movie. The story was pretty funny, and the some of the scenes were down right hilarious. I never met a kid who got caught with his pants down so many times. The scene with the apple pie was even funnier than in the commercials, and little Alyson Hannigan comes through at the end with the killer, "Say my name Bitch" line which still kills me. The pace of the movie is pretty good. And it was very crude and sexual up till near the end where they started to try and give the movie some feeling. I think while it was good it sort of bogged down the movie a little. But even while doing that, there were some good sight gags and line thrown in there to still keep it light hearted. And in the entire movie there were a lot of very nasty sights that I personally have never seen in a movie before (including one with a cup of beer... ugh, it still makes me sick thinking of it). Far grosser than anything in There's Something About Mary. But if it makes you laugh out loud, which it did, then it's worth it.

So overall, if you're looking for a good laugh at some sick stuff, American Pie is definitely the way to go. And remember, "Say my name, Bitch!" Hee hee... still has me laughing...
---
Visit the DVD Store for all your DVD needs.
---
&copy 1999 Wolfpack Productions