Written and Directed
by Kevin Smith

Running Time: 1:41

Rated R
for strong crude sexual content
including dialogue, graphic nudity
and pervasive language.

B-
---
THE OPENING
Zack and Miri Make a Porno started off strong but slowed down midway through and never really recovered.
THE STORY
Zack and Miri have been best friends since they were in grade school and are now sharing an apartment only feet from their old high school. Times are tough and the two are having a hard time paying their bills. One day they hit upon an idea to make a porn film starring the two of them. The only problem is figuring out who would have sex with whom. They decide that the easiest thing to do would be for them to sleep together, but of course it would only be as friends. They put together a ragtag team of producers, cameramen and other stars and start to work. But feelings start to get in the way and the whole film could come crashing down around them.
THE REVIEW
The premise of Zack and Miri Make a Porno is a decent one but you kind of already know where the movie is going. So whether the movie is good or not depends on the journey there. When Zack and Miri are still just friends, the movie is pretty hilarious. Seth Rogan was tailor-made for this role (and as we find out in the extras, Kevin Smith wrote the role specifically for him). This is totally in Rogan's wheelhouse and he hits it out of the park. Playing a guy who doesn't give a crap about anything and just likes to have fun and come up with crazy ideas isn't a stretch, but there is no one better in the business right now. Elizabeth Banks is a revelation as Miri, not because we haven't seen her before, but some of the things she says are completely outrageous and not something you expect coming from her. Being downright beautiful doesn't hurt either. There is always the issue about what someone like her would see in a guy like him, but these two make it work.
The supporting cast is very strong which is very helpful for when the movie hits the romance stage. Craig Robinson (of The Office is fantastic as the best friend who becomes a producer on the film. Current and former porn stars Katie Morgan and Traci Lords play, as you might expect, two of the stars of the film. You would imagine they brought some insight into the filming of the porn scenes. Jason Mewes, Smith's favorite muse, plays another one of the stars. He seems a little more toned down from his Jay and Silent Bob days but he's always fun to have around. And then there was Justin Long who only shows up for a few minutes but completely steals the movie as a gay porn star who goes to Zack and Miri's high school reunion as the boyfriend of a guy Miri had a crush on. I could seriously have watched him and Rogan go back and forth in conversation for an entire hour. Unlike when Long and Routh are together, Rogan isn't overmatched in the ad-lib department.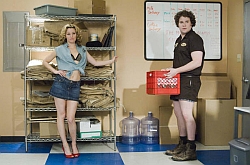 The movie is pretty raunchy, as you might imagine. Most of Kevin Smith's films are full of rude dialogue and sexual innuendo, so that's nothing new. It just gets taken to another level when you add in actual sex on camera and full frontal nudity from more than one person (male and female). If you're not prepared there are a couple of scenes that will be a little shocking. The problem with the movie is that while it starts off very funny with everyone having fun and riffing off each other, once Zack and Miri have sex, the romance portion of the movie takes over and it feels like the film hits a wall. There are so many movies that start off great but then collapse into the morass that is romance. I have nothing against that since it's obvious that's where the story needs to go, but the humor tends to go out the window with it. It's like all the actors take a deep breath and can't get back into to the race. And even if a line is funny here and there, the pace of the movie has slowed down so much that you can't appreciate the humor anymore. I had kind of hoped Kevin Smith would be the writer/director who managed to keep a movie going even while going romantic but alas, it was not to be. The movie ends as you might expect it to so there are no real surprises. However, stay for the credits because near the end you see a little more footage that was pretty entertaining.
DVD EXTRAS
The 2-Disc Special Edition DVD comes with hours of extras. The movie is around an hour and 40 minutes. The deleted/extended scenes are a little over an hour and 30 minutes. Much like the film itself, the extras start off funny but then get to be too much. A full 25 minutes is dedicated to Brandon Routh looked overmatched in an ad-lib session with Justin Long. The second disc as the requisite behind-the-scenes documentary, along with outtakes, a ton of webisodes made for the film (some of which are pretty funny) and a one-on-one matchup of Long vs. Rogan to see who can out ad-lib the other. There's also a segment from when the movie showed at Comic-Con 2008. The nice thing about the extras is that you get to see and hear a lot more from Kevin Smith who is a pretty funny guy just being himself so the extras are completely worth it and an added incentive if you're 50/50 on picking up the movie.
THE BOTTOM LINE
So overall, I liked Zack and Miri Make a Porno. I am a Kevin Smith fan so there is some bias there, I'll admit. The movie started off pretty funny but once it got to the romance stage it really slowed to a crawl. But still, it's a movie worth seeing for a lot of sex and laughs.
Netflix DVD Rentals. Only $4.99 a month. NO LATE FEES; Free Shipping. Try for FREE!