Written by Nicholas Stoller and Jarrad Paul
& Andrew Mogel

Directed by Peyton Reed

Running Time: 1:44

Rated PG-13
for crude sexual humor, language
and brief nudity.

B
---
THE OPENING
Yes Man was a funny and entertaining film that wasn't the Jim Carrey of old, but still enjoyable.
THE STORY
Carl is one of those people who just doesn't like to do anything. He has no ambition and prefers to spend his evenings on the couch watching movies. After missing his best friend's bachelor party, Carl decides to attend a seminar where the main goal is to simply say 'Yes' to anything and everything that is offered to you. Want to marry an Arab woman? Yes! Want to go bungee jumping? Yes! Carl ends up seeing and doing things he never thought possible. Along the way he meets a similarly free-spirited woman named Allison and the two fall in love. But is Carl only saying yes to whatever Allison wants because he has to? Or because he wants to?
THE REVIEW
I know some people expect that Yes Man will be a lot like Liar Liar. The difference is that in Liar Liar Carrey didn't have a choice in the matter because of some strange magical birthday wish. In Yes Man he is simply saying yes because he knows it'll help change his life (although admittedly, he doesn't realize that at first.) So don't go into the movie thinking it'll be a rehash of something you've seen because you'll be missing out on a pretty funny film. Everyone thinks of a Jim Carrey comedy as one where he'll make a lot of faces and have sounds come out of different orifices. And while there are a couple of classic Carrey moments, for the most part the story is the funny part. The idea of saying 'yes' to everything that's thrown your way is an exciting one. Imagine doing it just for one day in your life and see how your life would change. Now imagine doing it every day for the next year... your life could really go into truly unexpected places and I think this movie taps into the idea that people want to change but aren't really sure how to do it. And Carrey plays Carl as your typical average American who has a decent job and a few friends, but is stuck in a rut and doesn't know (or care) how to get out of it. The idea that simply saying 'yes' to everything is something I bet we all could do and the movie helps us live vicariously through someone, and maybe even gives us an opening to try it ourselves.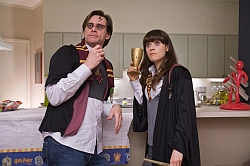 There are some truly hysterical moments in the movie. One of them involves an old lady and dentures that you kind of have to see to believe. And the movie, thankfully, never gets to a point where the romance between Carl and Allison (played by the always loveable Zooey Deschanel) takes center stage. In a lot of these romantic comedies, the movie starts off funny, but then because overly romantic. In Yes Man we see the relationship build but it never gets too serious. I never once felt the need to look at my watch and wonder when a scene was going to end. Carrey and Deschanel have a high likeability factor about them, even if they're 18 years apart in age - which was the one kind of icky thing about the movie. Carrey definitely looks older even if they never mention his actual age in the film. You really wanted both of them to find happiness so you were happy to go along for the ride. The supporting cast was equally as funny with Carrey's best friends, his 'Yes' mentor and his boss all taking turns adding humor to the film. There were times where I felt like the movie coasted a little too much but I think if you see the movie with an audience who is open to the humor and not pre-judging the film, you'll definitely have a good time. It really is a movie worth seeing if you want a very simple yet very funny couple of hours.
THE BOTTOM LINE
So overall, I thought Yes Man was a pretty funny movie - much funnier than I expected it to be. It's rare to be surprised by a comedy these days but between this movie and Role Models from a couple of months ago, you have two unexpectedly funny comedies that are both worth seeing.
Netflix DVD Rentals. Only $4.99 a month. NO LATE FEES; Free Shipping. Try for FREE!