Written by Aditya Chopra

Directed by Yash Chopra

Running Time: 3:18

Not Rated

B-
---
THE OPENING
Like most Bollywood films, Veer-Zaara was much too long and extremely cheesy. It was however, still entertaining, if somewhat predictable.
THE STORY
Saamiya is a new lawyer on the block. Her first case is that of a Hindu prisoner in a Pakistani jail. The prisoner, known only as prisoner 786, hasn't spoken in 22 years, since he was first imprisoned. Saamiya gets him to speak by uttering simply, Veer Pratap Singh: the prisoner's real name. It is a name he hasn't heard in years and the story behind it makes up the movie. Veer was a rescue pilot for the Indian Air Force. On a mission, he meets Zaara, a Pakistani in India who wants to deposit the ashes of her beloved nanny into a river that is along side the Sikh temple in Kiratpur. Veer and Zaara immediately hit it off, and Veer brings her to meet his aunt and uncle in a little village back home. Veer falls in love, but Zaara tells him that she is engaged to Raza. It is a marriage not of love, but of business, as their two fathers are important political allies. But Zaara loves Veer as well, and on the eve of her wedding, Veer shows up to win her heart. Veer knows the two of them can not wed, and convinces Zaara to marry Raza. Raza however, can not live with just this. He gets Veer arrested on trumped up charges and gives him an ultimatum; either call Zaara and clear your name, and therefore ruin her and her father's reputation, or accept the jail sentence, and never speak of it again. If you choose wisely, Zaara's life will be heaven, but if you choose poorly, her life will be a living hell. Veer chooses prison, and there he sits, until Saamiya finds him and tries to help him get free. Since this is a Bollywood film, the ending is a happy one.
THE REVIEW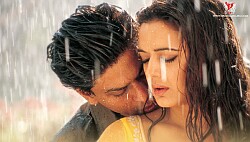 There are few Bollywood films that couldn't do with a 30-45 minute trim, and Veer-Zaara definitely fits the mold. Too many song and dance sequences for an American audience, and the story, while entertaining, also could have been cut. There was a secondary story line about Saamiya facing off against her old boss that was completely unnecessary. Bollywood films all tend to feel the need to discuss every single little thing that could possibly happen in minute details and that is half the reason these films run so long. Throw in the ten minute intermission, and the film runs close to three and a half hours. I realize that the music plays a large role in selling the film in India; the soundtrack to the movie has sold well over a million copies already; but to me it's all just too much.
That being said, I still liked the movie. First off, Rani Mukherjee, who plays Saamiya, is the most beautiful woman in the world, so I could watch her in a snowsuit reading an encyclopedia out loud in Latin while eating crackers and still be mesmerized by her face. Her character was the one standing up for the truth and justice and was over the top in her heartfelt want to get the two main characters back together. Her secondary story line with her boss was put there simply to allow them to say that India and Pakistan should stop the fighting and become united. It's a worthy thought, but it was quickly thrown in at the end which made it feel cheesy.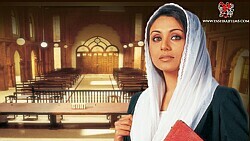 The main story line has been done thousands of times in both Bollywood and Hollywood. Two people, madly in love, kept apart for one reason or another, only to finally come together in the end. Time has no meaning when it comes to true love. Shahrukh Khan has done this role so many times he could do it in his sleep, but his ability to cry hasn't improved at all. He's easily the worst crier I've ever seen. But he does have a certain charming quality about him that I like. Preity Zinta is definitely one of the cuter actresses out there, and her smile can light up a screen. I think she's a good dancer, and again, this is the kind of character tailor made for her. She's so cute and sweet you feel everything she feels and want so badly for her to get to be with the man she loves. I don't know for sure, but I'm guessing these two have been partnered up in at least half a dozen films and it shows. They work very well together and that's a large part of the reason the movie is still enjoyable. And then of course there's the incomparable Amitabh Bachchan who shows up in an extended cameo appearance still looking like he's having fun after all these years.
THE BOTTOM LINE
So overall, Veer-Zaara is a standard Bollywood film. Very long, full of song and dance, romantic, predictable and yet somehow, entertaining. Not the best I've ever seen, but not the worst either. It's eventual theme of unity is nice, but it would have been nicer for it to have run throughout the entire movie, instead of being thrown in at the end.
Netflix lets you rent, watch and return DVDs from home – Now only a month!
I've been a member since April 2000. Click here for details!