Written by Julian Fellowes and
Matthew Faulk & Mark Skeet

Directed by Mira Nair

Running Time: 2:20

Rated PG-13
for some sensuality/partial nudity
and a brief violent image.

B-
---
THE OPENING
While not normally one for costume period pieces, I did enjoy Vanity Fair. There were some flaws, but not enough to take away from the overall appeal of the film.
THE STORY
Young Becky Sharp is sent to an orphanage at an early age. She is treated horribly, but aspires to someday become a member of high society. Her first stop is as governess to Sir Pitt, where she meets his son, Rawdon. She secretly marries him, which shocks the entire family, and instead of making her look good, it makes Rawdon look bad. Together they try and have a life, but between Becky's past, and Rawdon's gambling problem, nothing seems to go right. At the same time, Becky's best friend Amelia is in love with George, which George appears to be only in love with himself. Both Rawdon and George are soldiers and when Napoleon attacks Europe, both are called off to war. Only one will make it back alive. And the fortunes of both Becky and Amelia fade away, but in the end, both find some measure of happiness, in places they never expected.
THE REVIEW
As I said, I'm not generally one for costume period pieces, but Vanity Fair did manage to keep my interest throughout. I thought it was very well written, with sharp, at times humorous dialogue, well directed, full of beautiful colors and scenery, and well acted. Having not read the novel the movie is based on, I can't say how true it is to the original, but I found the story to be almost too simple. And the problem with setting a movie over a long period of time, is making the actors look different ages, and that did not work well at all.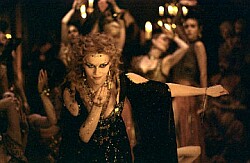 Becky Sharp was played as a woman of the 19th century, with the attitude of a 21st century woman. She would constantly talk back to everyone, never accept what she was given, and fight to make her own life better. Sometimes however, this would be to the detriment of others, including one heartbreaking scene with her son. Reese Witherspoon did a fine job as the only American actor in the middle of a bunch of Brits. Much has been written about whether or not a British woman should have played the role, but let's be serious for a moment. What are the chances this movie would have gotten as much press as it has without someone with the star power of Witherspoon? And the truth is, she pulls off the accent with ease and seems right at home in the role. She was one of the major reasons I enjoyed the film as much as I did. She's a very likeable actor, having groomed her image in films like Sweet Home Alabama, and that carries over into this film. At times her character is conniving, devious and irritating, but she's still someone I could cheer for. The rest of the all-star cast was equally as compelling, with Eileen Atkins as Aunt Matilda being the most entertaining of the bunch.
The look of the film was very colorful and I think having Mira Nair sign on as director helped bring that about. Having done films such as Monsoon Wedding and being brought up in the middle of the Bollywood tradition allowed her to bring those sensibilities to Vanity Fair. Everything looked very rich and full. From the rundown Crawley residence to the streets of London to the outdoors of India, all the sets felt alive and full of life, no matter what was happening on screen. Add in some amazing costumes, especially in the unexpected Bollywood dance sequence, and you have a film that's bright and full of rich colors and images.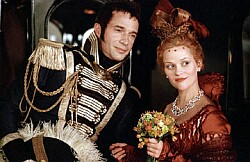 There were times during the movie where I kept thinking that things were happening too fast, or too easy for Becky. Maybe it was the fact that the lengthy novel needed to be brought down to a manageable time, but Becky's rise from the orphanage was very quick. Within a very short time of arriving at the Crawley home, she charmed Aunt Matlida and was whisked away to London, where without much reason that I could discern, she married Rawdon. For a woman who was all about making her life better, did she really marry for love? After everything she had gone through, could this one man, who at least on screen we didn't see much of before their marriage, be the one man that could make her love? I didn't really believe that, especially after everything she did afterwards with her son, as well as the deals she made with the Marquess of Steyne. Nothing would stop her from achieving her goals at that point in her life, and I felt like she would have married someone else. If love was her true reason for marrying Rawdon, then I would have liked to have seen more of why she felt that way. Likewise, I never understood where her friend Amelia was coming from. Why was she so in love with George? Yes I understand a lot of literature has a woman fall in love with the 'bad boy' while the good guy is right in front of her, but usually the 'bad boy' does something early on so we can at least have a little understanding. This movie started with her being in love with George, and I never knew why. The last issue was the time period of the film. It takes place over many years, yet Reese looks pretty much exactly the same no matter what. Simple makeup issue perhaps, but it didn't make the movie feel genuine when 15 years or so in the future she looked like she did when she was first leaving the orphanage. Neither time nor circumstance had aged her.
THE BOTTOM LINE
So overall, I liked Vanity Fair. The acting was strong and the scenery was beautiful, but the story seemed chopped. I understand that a 900-page novel is difficult to bring down to an acceptable length for film, but I felt the movie could have had a stronger thread running throughout.
Pictures from the premiere of Vanity Fair