Written by Tim Burton

Directed by Steve Hickner

Running Time: 1:56

Rated R
for graphic bloody violence.

A-
---
THE OPENING
Sweeney Todd: The Demon Barber of Fleet Street was a fantastic film, filled with amazing visuals, great performances, and lots and lots of blood.
THE STORY
Benjamin Barker was a mild-mannered barber, the best in London, who had a beautiful wife and adorable daughter. But the immoral Judge Turpin wanted Barker's wife for himself, so on a trumped up charge, he sends Barker away. Fifteen years later, Barker is back, in the guise of Sweeney Todd, and he wants nothing more than to see his family and get revenge. But when he returns, he finds out from Mrs. Lovett, the local meat pie maker, that Barker's wife took poison. And to make matters worse, his daughter is now the ward of Judge Turpin. Angered to the point of insanity, Todd sets up in his old apartment and becomes a barber once again. But this time he doesn't just cut hair or shave beards; he kills. And to top that, once he kills, Mrs. Lovett takes the dead bodies and grinds them up for her meat pies. The only question that remains is, will Sweeney Todd get his revenge on Judge Turpin before he and Mrs. Lovett are caught?
THE REVIEW
There is no question Sweeney Todd is a different kind of movie. There have been bloody films before, and there have been musicals before, but I've never seen them put together. So first off, the big questions is whether or not the stars can sing. For the most part, the answer is yes. I'm not saying if they recorded albums (or CDs) I'd rush out and buy them, but for a movie musical they all held their own. Some of the songs were not easy to sing, and from listening to a couple of the behind-the-scenes documentaries, more than once the actors felt like they would pass out from having to sing without being able to take a breath. They were pretty impressive performances, and a risky ones at that for all involved.
Johnny Depp is once again fantastic. He is long overdue for an Oscar - just getting nominated is no longer good enough. The man has more talent in his nose than most do in their bodies. He goes from a mild mannered barber with a beautiful wife and kid, to a tormented and demented serial killer. But one with a purpose, so you don't feel too scared of him. I mean, it is Johnny Depp after all. Helena Bonham Carter had arguably the toughest role as the woman in love with Sweeney Todd. Her songs were a little more difficult to sing, but she managed to do them justice. The rest of the cast was strong as well, even if once in a while they might hit a cringe worthy note. This wasn't a movie where songs would appear in the background - this was a musical in every sense of the word, but even if you're not generally a fan, this one is the one you should try.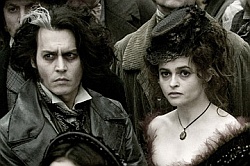 As you might imagine from Tim Burton film, the visuals were impeccable. I'm not sure if the man is psychotic, but every film of his has the most amazing look. Everything was brilliantly dark and depressing, but still extremely sharp and almost poetic. Burton may be the one director working today who could make a silent film work because people would still be enamored by just watching what was on screen. He's never directed a musical before, but this was right up his alley. And teaming with Depp is always a great thing, as the two have never made a bad movie together. They may not have all been huge blockbusters, but all were very entertaining. The two have a very special connection to each other and it shows on screen.
The only real downside to the film is at times the pacing seems very slow. The first half of the film, as we're setting up the characters, is where you really feel it. As it is a musical, sometimes listening them sing over and over can be a bit much, and having them sing to move the plot along can take additional time. But once the film hits the halfway mark, things really start to pick up. And that's when the blood comes in. Outside of old fashioned slasher films, I don't think I've seen a film with this much blood before. It was as if the human body in this film held more than 3x the amount of blood as a normal person. And while you might expect the first bloodletting, you won't be ready for the huge amount that comes spurting out. And considering the meat pie story line, there's a lot more derangement than just slicing a few throats. This film is not for the weak hearted.
DVD EXTRAS
The 2-Disc Special Collector's Edition comes with a ton of extras. The first disc has a documentary called Burton + Depp + Carter = Todd, which as you might imagine, focuses on the director and two stars and how they all came together to make the movie. It has a bunch of humorous stories and rehearsal scenes and is pretty interesting. The second disc has all the other extras. There are a few historical documentaries including one that digs into whether or not Sweeney Todd was a real person. There was one about the transformation from theater to screen, featuring Stephen Sondheim. Another extra was a two-person Q&A with Depp and Burton answering questions sent in by viewers to a Moviefone sponsored show. There was a behind-the-scenes documentary which focused on the cast and the visuals of the film. And there were two extras that were my favorites: one, a press conference with all the stars and one that was all about the blood effects. Considering how much blood there was in the film, I thought that last one was completely worth it. And I loved the press conference and think more DVDs could feature that. Every movie has a press conference at one point or another, so how hard is it to stick a camera in the back and just film it? And believe it or not, there are even more extras on the DVD. This is by far one of the times when buying the Special Edition is completely worth the extra couple of bucks. You could spend hours watching the additional features.
THE BOTTOM LINE
So overall, I loved Sweeney Todd. It has Johnny Depp, it has Tim Burton, it looks amazing, has wonderful performances and tons of blood. What's not to love?
Netflix DVD Rentals. Only $4.99 a month. NO LATE FEES; Free Shipping. Try for FREE!