Written by Jeffrey Price & Peter S. Seaman

Directed by Chris Miller

Running Time: 1:32

Rated PG
for some crude humor, suggestive content
and swashbuckling action.

B
---
THE OPENING
Shrek the Third was a lot like its predecessors; funny at times, but still feeling like something was missing.
THE STORY
In the third installment of the saga, we find Shrek being chosen to lead the kingdom of Far Far Away. This is a job of course, that he doesn't want. But in order to not take the job, he has to track down the next person in line for the throne, Arthur a.k.a. Artie. Meanwhile, Prince Charming is stewing in dinner theater over the idea that he should be the rightful King. And while Shrek is away, Charming storms the castle and takes over. A pregnant Fiona is trapped inside alongside her princess pals. Upon Shrek's return, a battle ensues and the leader of Far Far Away is finally anointed.
THE REVIEW
As in the past two films, there are moments in Shrek the Third that are simply laugh-out-loud funny. Some of the events that take place are just absurd, and some of them are subtle and still just as funny. But I always get the feeling that something is missing. For one, the stories are never quite solid. They're passable, but nothing to write home about. This time around the plot was very thing. But I guess people don't see these movies for the plot. The movie only clocks in at about an hour and a half, and 10 minutes of that are credits, so I'd like to think they could extend the movie a little bit more, to make it feel more complete. It just all seemed really quick.
The animation was top notch as always. I don't think there was anything new or advanced about it, but it seemed a lot sharper than before. Shrek himself really stood out against the background. The returning voices were fun as always, with the sidekicks stealing all the laughs. Whether it was Donkey or Puss in Boots, or my favorite character, the Gingerbread Man, Shrek's friends manage to get the laughs while he plays the straight guy. Ogre. I really enjoyed the appearance of Merlin, voiced by Eric Idle. He brought a lot of humor and energy to the story. Justin Timberlake was decent as Artie. There were times you could hear a small stutter in his voice, but it wasn't anything that took away from the film. Although I had hoped he'd have a song in there somewhere. This is Justin Timberlake after all.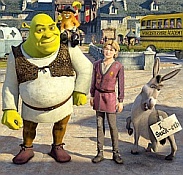 I just realized that my complaint about the last film was the need to have a plot. Maybe I really can't ever be happy. Or maybe there's a happy medium that they haven't yet reached. The nice thing about this movie was that I didn't ever really feel like the movie slowed down. There were serious moments, but they never lasted too long. It was basically one joke to the next. Maybe in part four they'll form that bridge between humor and story. The strange thing is, I only saw the movie 24 hours ago and I can't really remember much of what happened. For that matter, I can't really remember much of what happened in the first two movies. There is a random scene or two that I can recall, like Pinocchio and his thong from part 2, but with part 3 the only thing I really remember is the Gingerbread Man seeing his life flash before his eyes. Otherwise the movie wasn't very memorable. Not to say it wasn't fun while I was there, it's just not something that lives with you. Like the last couple, it may make a lot of money, but unlike a truly great classic, it's not a movie that you take home with you. It's mindless entertainment for the moment, and then it's gone.
DVD REVIEW
The DVD extras didn't offer a lot in entertainment value. As with the past movies, there's a 'mistakes' extra where we see some computer errors. There's a large section on Artie's Yearbook, which is mostly about the audio and not the visuals. Shrek's Guide to Parenthood is also along those same lines. The Donkey Dance is only about 30 seconds long. The only extra that was remotely interesting was the Lost Scenes. As with most animated films, there are no real deleted scenes because the decision on what to keep is made long before anything is created. Instead we get to see storyboards and the animators acting them out. It was fascinating to see how a pitch meeting works and see what the scenes might have been. Overall though, the extras aren't all that worthwhile.
THE BOTTOM LINE
So overall, I thought Shrek the Third was right in line with the last two films. It had some really funny moments, it has some slow moments and then it was over. Fun, but forgettable.
Netflix lets you rent, watch and return DVDs from home – Now from only a month!