Written by Ewan Leslie and Karen McCullah Lutz
& Kirsten Smith

Directed by Andy Fickman

Running Time: 1:45

Rated PG-13
for some sexual material.

B-
---
THE OPENING
She's the Man was a typical teen comedy with some funny moments and a truly ridiculous story.
THE STORY
Viola is a great soccer player on her high school team. Unfortunately, two weeks before school starts, the team is cut for lack of participation. She decides to try out for the guy's team, but the coach, the players, and her boyfriend, all laugh at her. So she decides to do the next best thing. Her twin brother, Sebastian, is supposed to start at a new high school, but instead wants to go to London for two weeks with his band. Viola decides to become her brother, and go out for the boy's soccer team at his high school, to prove to everyone she can. While 'undercover' as a guy, she falls for her roommate, who happens to be in love with another girl, who happens to be in love with Sebastian, who is really Viola. Get it?
THE REVIEW
First off, let's get one thing out of the way. Amanda Bynes does not make a good guy. She's a beautiful young woman with loads of comedic talent, but she can never pass for a guy. So to enjoy the movie, you really, really have to deal with the ridiculousness of her trying to be her own brother. She doesn't look like a guy, she doesn't act like a guy, she doesn't sound like a guy and yet, everyone buys it. If you can't get past that, there is no way you'll like the movie, so don't even bother trying. If however, you can accept the notion of Amanda as a male, then the movie isn't half bad. It's clichéd for sure and preposterous even beyond the whole fake guy thing, but it is funny.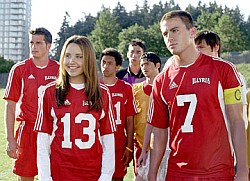 First off, as I said, Amanda Bynes is funny. For a young actress, she's got a great delivery of lines, with just the right amount of sarcasm behind her pretty smile. It allows her to get away with things that other actors couldn't. The story, which involves a love hexagon it seems, was decently plotted out. So even though it was very convenient how every time Amanda was almost found out, she was able to wriggle her way through, it was still somewhat reasonable. The rest of the cast wasn't anything special, but they all did what they were supposed to do. From the dumb jock with the heart of gold, to the blonde bombshell, with the heart of gold, to the blond bombshell who was nothing more than a pain in the ass, they all fit into their roles.
DVD extras include the usual deleted scenes, a gag reel, and a director's commentary. But there was also one cool feature: a pop-up video type trivia track. It can get a little distracting if you have it on the entire movie, if you've never need the film before, but it was fun. You learn things like, this wasn't the first time the cinematographer shot in a VW Beetle, or that Amanda got heat rashes from playing soccer in bulky clothes. I'm a big fan of fun facts, and I think more DVDs should have that feature.
THE BOTTOM LINE
So overall, I liked She's the Man because I'm a fan of Amanda Bynes, and because I was able to get past the idea of her passing as a man. I hope someday soon she graduates to somewhat more sophisticated comedies, but for right now, this movie is the kind of film that's right in her wheelhouse, and she hits it out of the park.
Netflix lets you rent, watch and return DVDs from home – Now from only a month!