Written by Patrick Melton & Marcus Dunstan

Directed by David Hackl

Running Time: 1:24

Rated R
for sequences of grisly bloody violence
and torture, language and brief nudity.

C+
---
THE OPENING
If it's Halloween, it must be yet another brutal installment of the most prolific horror series of the last 20 years... Saw V gives you the same disturbing killing sequences of the past but with a little more drama thrown in for good measure.
THE STORY
Seeing as how Jigsaw died a couple of films ago, it is no surprise that he has had some help along the way. We found out about one helped a while back and now we're introduced to another - Detective Mark Hoffman. We see in a flashback that during the early days of the Jigsaw murders, Hoffman killed off a man who killed Hoffman's sister. Hoffman made it look like a Jigsaw killing and Jigsaw was not happy about it. Playing on Hoffman's need for justice (and a little blackmail) Jigsaw convinced Hoffman to help him commit future murders. But another cop who has been on Jigsaw since the beginning, FBI Agent Strahm, is quickly figuring out the truth. Hoffman needs to do something before he goes down for the count. At the same time, a group of 5 individuals is playing another Jigsaw game and must try to escape his latest house of horrors.
THE REVIEW
Although I will admit to being a little tired of the series, I am a fan of the Saw movies. They're generally pretty smartly written even though the scripts are overshadowed by the brutal violence that takes place. And no, I'm not saying they're great movies, but for horror films you have to admit they're not bad. Saw IV was a bit of a mindf*ck for me with an ending I didn't see coming. In fact all four previous movies were like that. They had these great twist endings that made you have to think a little bit. Now, if you didn't like the movies to begin with you won't like the endings no matter how good they are. But I will definitely give the writers high marks for trying. The problem with Saw V however, is the entire movie was pretty obvious right from the start.
Let's start with what is usually the story line, and that's five people trapped in a room given a chance to escape. That entire story line was secondary to the main plot line. To me the real joy of a Saw film is the various traps people need to get out of to redeem themselves. Here, the traps and the people were all rather boring. Yes a few of them did die horrible deaths, but the overall feel was too simple. Put simply, it wasn't brutal enough. I'll admit calling decapitations or electrocutions not brutal enough is a little scary, but in the context of these movies, it really wasn't anything special. The entire story served one single purpose towards the end of the film which was smart, but for a Saw film, it should have been more important.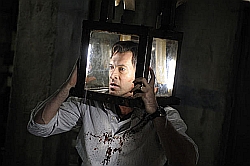 The main story involved Agent Strahm figuring out everything that has happened in the last four films. The filmmakers do a good job of incorporating events from the previous movies through many, many flashbacks. I always like sequels that acknowledge the earlier movies and this series has always done a good job with that. We've seen what the end results are, but in this movie we get to see how things are set up and what the mindset was of the people involved. While this may not be a great thing for a horror film, it is interesting nonetheless and I think it'll play a lot into the next film. There is a greater reason for why all this is happening and I think we're in for a big surprise at the end.
All that being said, the more I think about the movie, the more I realize there was a lot of subtle things that happened leading up to the horrific ending. The filmmakers did a great job in giving us little bits of evidence that lead towards the final conclusion, even if you know how it'll end based on years of watching movies. And there are small scenes that are thrown in there that have absolutely no resolve so you know it's all leading to something else. But it's still fun to see it all play out. And the final shot of the movie is one of the most horrible things you can imagine. It's definitely a cringe-worthy way to end the movie, but it leaves the door wide open to another part. I have a feeling they may finally stop after part 6, but who knows... if this movie makes a lot of money they may just do a triple trilogy to tell the story of Jigsaw.
THE BOTTOM LINE
So overall, I was fine with Saw V. I thought there was less brutality than the past films, but if you've liked the series so far, you'll like this one as well. But I doubt it'll bring in any new fans. Maybe they'll be here for part 6.
Netflix DVD Rentals. Only $4.99 a month. NO LATE FEES; Free Shipping. Try for FREE!