Written by Kurt Wimmer

Directed by Phillip Noyce

Running Time: 1:40

Rated PG-13
for intense sequences of violence and action.

B
---
THE OPENING
Salt was an action packed thriller that could only have been led by Angelina Jolie.
THE STORY
Evelyn Salt works undercover for the C.I.A. When a former Russian spy enters her headquarters, he reveals that someone within the C.I.A. will assassinate the Russian President on his visit to New York. He says that person is named Evelyn Salt. Salt, in fear for her life, escapes custody and goes on the run. But what are her real intentions? Is she in fact the spy who is about to kill the Russian President? Or is she simply a scared wife trying to find her husband who may be used as a hostage against her?
THE REVIEW
I don't think there's another actress out there that could have played Salt besides Angelina Jolie. Can you really imagine anyone else working today that could headling a movie like this? As soon as I heard about the movie I was looking forward to it because she has that ability to make a movie like this shine. And she did. While the story was a little bit telegraphed in the beginning, I still enjoyed the twists and turns as we find out who this woman really is.

The movie really never lets up. There are a few quiet moments here and there, but for the most part the tension starts early and then continues on throughout. There was some fear that the trailers give away too much but once you see the movie you realize that's all part of the plan. You go in thinking you know who Salt is and what her motivations are, but in reality, there's a whole lot more going on inside her head. The question is whether she really is a Russian agent or not is one that continues through the entire movie and even at the end you're still kind of wondering what her true motivations are. There's no question that they imagined this as a Bourne type trilogy so the movie doesn't answer all your questions, but it answers enough. As I said though, if you've seen enough movies (and if you're reading this review, you probably have seen a lot) you can see part of the plot twist coming a mile away. But luckily there's a lot more going on that you can hang your hat on, both in the story and in the action.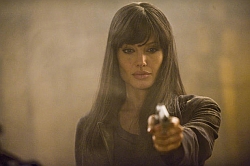 A lot has been made about how this movie was originally written for a male star and Tom Cruise was attached. Changing the lead to a female and having Jolie star added an extra element on top of the material mainly because you don't expect as much from a female spy. I know that might sound a little sexist, but if you see Tom Cruise killing people and jumping from truck to truck along a highway, you think - sure, it's Tom Cruise. But when Angelina Jolie does it, you're amazing that here is someone who can hang with the big boys and knock them down a few pegs. In general women show more vulnerability then men do and so when the back story includes Jolie and her husband, there is more to latch on to. If it was Cruise and his wife there would be more detachment. With Jolie you can see the sorrow in her eyes from the start. It gives the movie more of a backbone than if Cruise or any other guy was the star.

The action sequences are pretty intense. As mentioned earlier, there's a sequence where Salt is jumping from truck to truck while on a highway that was pretty spectacular. But there are a bunch of other moments when she's cornered and needs a way out and she improvises an escape. Salt isn't just about good looks and brute force, she's about the brains as well. She manages to outsmart just about everybody, but once in a while does need to turn to others for a little help. The movie is kept at a pretty fast pace, so there isn't a lot of time to take a breath before something else happens. But that's nice to see. In most movies like this, the love story would have interfered with the action, but here they kept it quick and in flashback so we could gather the information we needed and moved on. And it served as strong motivation for Salt to act.
THE BOTTOM LINE
So overall I liked Salt. Good action, interesting story. Angelina Jolie completely ruled the screen. Definitely worth seeing.