Written by James L. White

Directed by Taylor Hackford

Running Time: 2:35

Rated PG-13
for depiction of drug addiction,
sexuality and some thematic elements

A-
---
THE OPENING
Ray was a great movie that pulled no punches and featured an outstanding performance by Jamie Foxx as the legendary Ray Charles.
THE STORY
Ray Charles Robinson was born in the South and had a rough upbringing. His mother worked cleaning other people's clothes and his father was nowhere to be found. Although his mother had a hard edge, she wanted nothing but the best for her children. When he was young, Ray watched his younger brother drown, and it's an image that haunted him the rest of his life. To make matters worse, Ray lost his eyesight shortly thereafter. His mother did all she could for him, but knew that in order for Ray to make something of himself, he'd have to go away to a school for the blind. While there, his mother passed away. Ray grew up and became able to take care of himself. Although blind, he becomes one of the great piano players of his era. He decided to leave Tampa and take a bus all the way up to Seattle where he would meet a young Quincy Jones. From there, Ray goes through ups and downs in his career and his personal life. He gets married, but sleeps with other women. He becomes addicted to heroin for many years, before finally kicking the habit. He goes through a series of bands before becoming the singer we all know and love. But throughout it all, he creates music that is revolutionary and legendary.

THE REVIEW
First and foremost, the greatest thing about Ray is the astounding performance by Jamie Foxx. All the awards he has received are certainly well deserved. Playing a legend, especially with the legend being right there with you (Ray Charles died after filming was completed), can not be easy. But Foxx literally became Ray Charles. This is no "I'm Rick James Bitch!" type performance from Dave Chappelle, this is an actor becoming another human being. And let's admit it, when I (and most of the rest of the world) heard Jamie Foxx was going to be playing Ray Charles, we all did a double take. Foxx was then best known for being on In Living Color and having his own Jamie Foxx show on the WB. He had started to do more dramatic work, and had gotten good reviews for his roles in Any Given Sunday and Ali, but those were supporting roles. This was Foxx going front and center, and on top of it, he had to play someone that the majority of the country knew and loved. His ability to mimic Ray's physical movement and his voice was incredible, but it never fell to the level of parody. Throughout the movie there are some of the great Ray Charles songs being performed, and until you read the closing credits, you can not tell which ones are sung by Foxx and which ones are sung by Ray. This performance may have just been added to my list of the greatest performances I've seen in my lifetime (joining Denzel Washington in Malcolm X, Sean Penn in Dead Man Walking and Robert DeNiro in Raging Bull.)
Ray Charles did not lead a terrific life. Beyond his obvious hardships as a child, when he grew up, he became a hard man to love. That was one of the aspects of the movie I enjoyed the most; they didn't back down from his life, they showed almost everything without sugar coating. His heroin addiction for one was something they could have glossed over, but they showed how it started and why it started, and took us all the way through to the terrifying ending in detox. His womanizing, while well known before the movie, was also something they could have passed on, but instead they showed how he loved his wife, but still took other women while on the road. I did notice however that right at the end of the credits, they mentioned Ray had 12 kids, but in the movie, I counted 3. I realize that they couldn't show everything about his life in the time they had, but maybe they could have showed a little more of the consequences of his actions. Who had all the kids?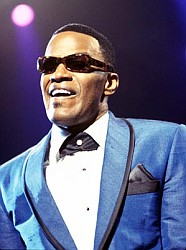 Ray may have been blind, but he was no pushover. From early on he knew people were going to try and take advantage of him, and he fought back, willing to give up everything to be true to the business. Not many people would have turned their back on free room and board (and free sex) in order to make a point about money. And on the road with his new band, it was the same thing. If someone tried to take advantage of him, Ray would fight back. And when he finally made it big, he still kept pushing, making a tremendous stand to keep his own master recordings, something unheard of even in today's world. His biggest stand was the one against discrimination. In Georgia at the time, blacks and whites weren't allowed to mix at the arena Ray was scheduled to perform in. Ray initially didn't want to get involved, but realized he had to make a stand and backed out of the concert. This lead to him being banned from performing in the state ever again (a ban which was eventually reversed) and it also lead to people coming after him to try and take him down.

Ray's music was a new mix of gospel and R&B, and a lot of people didn't take kindly to the sounds of the Lord being mixed with sexual innuendos. And with him being a popular black artist, there was even more reason to bring him down. Ray was arrested on a few occasions for drug possession but nothing would keep the man down. He wasn't the greatest husband or father, he treated even his best and closest friends badly, and would do anything to get and stay ahead in business. But no one can deny that the music he created will last long past his death. Listening to the evolution of his music was amazing. From the early songs that I had never heard before, to the classics like Hit the Road Jack and Georgia on My Mind, the music will live on forever. The only thing I missed was his iconic performance of America the Beautiful, easily the greatest rendition of the song ever made.

THE BOTTOM LINE
So overall, I enjoyed Ray. Jamie Foxx was tremendous in his portrayal of the legendary artist and the music makes the movie worth watching over and over again. I loved how they never glossed over Ray's life and showed us almost all the bad stuff along with the good. At times the movie seemed to rush over certain things, but I'd definitely watch it again.


Harry Potter and the Half-Blood Prince