Written by Paul Haggis and Neal Purvis
and Robert Wade

Directed by Marc Forster

Running Time: 1:46

Rated PG-13
for intense sequences of violence and action,
and some sexual content.

B-
---
THE OPENING
Quantum of Solace was a passable action film, but I expect more out of James Bond than passable.
THE STORY
Minutes after capturing one of the masterminds behind his girlfriend Vesper's murder, James Bond sets out on a mission to track down the men behind the man. In usual Bond fashion his destinations are worldwide from Italy to London to Haiti and Bolivia. In the middle of his revenge trip, Bond discovers a plot by the extremely secret organization QUANTUM to take control of... something. He's not 100% sure what they're doing, but he knows they're up to no good. He aligns himself with a woman who has revenge of her own on her mind and together the two of them hunt down a member of QUANTUM. But will the information they get from him be enough for Bond to get the payback he so desperately wants?
THE REVIEW
There are certain things you expect from a James Bond movie and Quantum of Solace delivers on only a couple of them. The movie literally starts off in the middle of a wild car chase that lasts a good 3-4 minutes. It's a car chase straight in line with the rest of the car chases in today's world - it's full of camera-shaking, headache-inducing action that at times is hard to follow. That leads to the opening credit sequence which also lasts 3-4 minutes and features a song from Alicia Keys and Jack White - an odd combination on paper, but the song works. From there we are almost immediately lead into a foot chase which lasted a good 5-7 minutes and was arguably the best sequence in the film. It was like the building-to-building chase from Casino Royale although a little more frantic and overall not as good. So there is no question the movie starts off with a bang. It's just that then it settles into a story that had none of the old Bond qualities.
First off, there was no real bad guy in the movie. And the token bad guy - the one Bond is hunting down for most of the movie - was kind of tiny and not impressive. And his dastardly plot line eventually came down to wanting to control natural resources in Bolivia? At least I think that's what the point was. There was no talk of wanting to take over the world or set of nuclear bombs somewhere. It all came down to water. The short story called Quantum of Solace was apparently just Bond at a party telling a story, so the movie plot was created from the ground up and I get the feeling the writers threw out the idea of making a Bond movie and instead just made a standard action film. I feel like it was just a bunch of action sequences thrown together around a flimsy story. The overarching idea behind this film is that Bond is upset that Vesper died and he wants to kill her boyfriend because he was a spy who used her and got her killed. If the movie had simply been a film about Bond going off the deep end and getting revenge, that would have been fine. But they kept throwing in all these other little plot lines that distracts you from the main goal and it just watered down the movie.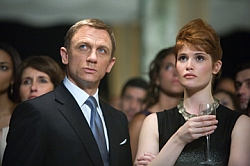 There are a number of little things you expect from a Bond film. For instance, you expect him at some point to say "Bond, James Bond." To the best of my recollection, he does not. You expect him to have fancy gadgets. He does not, although M back in headquarters does have a cool computer system. You expect there to be Bond girls that are both sexy and dangerous and have a serious flirtation with Bond. In this movie you have a couple of hot girls, one who shows up halfway through the film for no apparent reason, and another one who has no time to flirt with Bond because she wants to kill someone. You expect exotic locales, which this movie does offer. You expect high-paced action sequences, which this movie does offer. And on that note... As I said, the movie starts off with a car chase and a foot chase. About half an hour later, there's a boat chase. And at that point I said to myself 'By land, sea and air!" And yes, later on in the film we're treated to an airplane chase. You see what I mean about a bunch of action sequences thrown together? By the end of the movie they had run out of places to have a chase. But that doesn't mean there wasn't time for one massive set of explosions.
With Casino Royale and the Bourne Trilogy the last few years have seen some of the best action spy thrillers ever. They're down and dirty and raw and in your face. But they also have compelling characters and strong stories. Quantum of Solace takes a step back by losing sight of the fact that we like characters we're familiar with, but you can't change them too much. Daniel Craig is a great James Bond but in this movie he rarely says or does anything with any emotion. He's supposedly torn up about losing Vesper but you never see it. He never has that James Bond feel and while I appreciate the idea that the filmmakers want to bring Bond into a new era, you still need to have something from the old era to bridge the two. When the movie was over the main talk I heard around the theater was 'eh, it was OK.' If this were a run-of-the-mill action film it would have been decent. But as a James Bond film, it was a disappointment.
DVD EXTRAS
I'll start off by saying that watching Quantum of Solace at home on the couch was a little more enjoyable than in the theaters. I didn't feel the camera movement as much, and I could take breaks when I needed to. As always, the picture looked great and the movie sounded great at home. As far as extras, there were a lot but none of them all that compelling. Disc 1 has a music video... that's about it. Disc 2 had a bunch of featurettes that highlighted different aspects of the production. Most of them are pretty short (under 5 minutes) but there are a couple of longer ones. One is called "Bond on Location" and you get to hear from the director, producers and Daniel Craig about the ins and outs of shooting on location in Italy and Bolivia. It was pretty interesting. But there was nothing about the character of Bond or the history of the franchise. No deleted/extended scenes (which are my favorite extras) and no commentary track which I don't normally listen to anyway, but always thought was the most basic extra.
THE BOTTOM LINE
So overall, I was sadly disappointed with Quantum of Solace. Was it fair of me to expect more? I think so... this is after all the longest running film series in history and it has a certain pedigree behind it. While the action sequences were fairly strong, the lack of a coherent, or even entertaining, story made for a poor installment of the franchise. Here's hoping they go back to actual Bond books for future films.
Netflix DVD Rentals. Only $4.99 a month. NO LATE FEES; Free Shipping. Try for FREE!