Written by Wes Anderson and Noah Baumbach

Directed by Wes Anderson

Running Time: 1:27

Rated PG
for action, smoking
and slang humor.

A-

Written by Joe Stillman

Directed by Jorge Blanco

Running Time: 1:28

Rated PG
for mild sci-fi action
and some suggestive humor.

D
---
THE OPENING
Fantastic Mr. Fox and Planet 51 were on completely different ends of the entertainment spectrum with the Fox beating the Aliens handily.
THE STORY
Fantastic Mr. Fox is based on the Roald Dahl story about a fox who lives to steal. In the film version, he is nearly caught and when his wife announces her pregnancy, she asks him to give up his life of thievery. But a couple of (human) years later, Mr. Fox is restless and in need of some excitement. His family moves to an expensive tree where he spots farms owned by three of the most ruthless farmers in the area. Mr. Fox decides to steal from each of them, which leads to an all out war between the farmers and the animals with no certainty as to who will come out on top. Meanwhile in another part of the galaxy on Planet 51, United States astronaut Captain Baker has landed on what he thought was an empty planet. Only, he finds a group of aliens who live in a world that is remarkably like the U.S. in the 1950s. So along with his newfound friends, Captain Baker must try and leave the planet in less than a few days so he can get home.
THE REVIEW
Let's start with Planet 51. The animation was decent but nothing extraordinary. The problems were with the story, the dialogue and the voice cast. The story was extremely boring. I'm not sure what the point of having the aliens act like they were living in the U.S. in the 50s was. They had hovercars, it rained rocks and their dogs pissed acid, but otherwise they were identical to us. They spoke English? What are the odds of that? They breathe oxygen? There was no explanation for why any of this was possible, you were just supposed to accept it. OK, fine, that happens a lot in movies. I'll accept that there is a world identical to ours in another part of the universe, inhabited by green aliens. But the movie had virtually no humor. There was almost nothing fun about the entire film. Sure, there were one or two sight gags that referenced other movies, but for the most part, I didn't laugh at all during the movie. In fact, I fell asleep for a good 10 minutes, which is not something that generally happens to me at movies, especially animated ones. I'll sit through just about anything animated because usually the visuals are entertaining and if they're not, there's a lot of good humor. This movie had nothing going for it.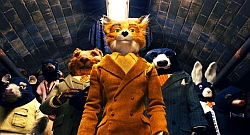 Contrast that with Fantastic Mr. Fox. First the stop-motion animation was extremely interesting. It took a little while to adjust to it since it looks unlike anything I've seen before, but once you get used to it, it's almost magical. It's simple yet very effective with the gleaming of the fur and the facial movements that look realistic. It's a very mesmerizing film, visually. The story was funny because it put a lot of human qualities onto the animals. Mr. Fox gives up his job in order to live a calmer life with his wife and son. But after a while he gets tired and wants to live in a bigger and better place, so he goes looking for a nice tree with a view. And then his old life calls him back but he has to hide it from his wife. The story isn't directly from the book because the book would have been too short, but it worked. And based on the dialogue and voice cast, you know this is a Wes Anderson film. His movies are so laid back it's almost as if nothing is really happening. The dialogue is rich and full of innuendo and sarcasm that you need to really listen to. His animated film is the same way. George Clooney and Jason Schwartzman are hysterical together playing father and son. Schwartzman's Ash has a crush on a fellow student who seems more interested in Ash's cousin. They have the following exchange: "You're supposed to be my lab partner." "I am," she says. "No you're not," says Ash. "You're disloyal." It's a ridiculously funny final line both in the way he says it and the context. The entire movie is filled with scenes like that.
The voice cast in Planet 51 wasn't nearly as interesting. Justin Long and Dwayne "The Rock" Johnson headline the cast, but while their voices are recognizable, they simply don't have anything worthwhile to say. Long's voice is more suited to doing animated work because he has a lot of different moods. The Rock on the other hand is better in person than as a voice because most of what is likeable about him is his personality. Clooney and Schwartzman have very distinct voices and the ability to do more with them. And their script is by far the more entertaining one. Will kids like either of them? Planet 51 is probably more accessible to children because it looks more like a cartoon. It doesn't have the majesty of Pixar films or the gag-a-minute story of a DreamWorks animated film, but it is colorful with crazy looking characters. However the story and lack of humor may turn kids off. Fantastic Mr. Fox is visually stunning but for kids of today's generation, it may be too bland for them. The story is easy enough to follow, but a lot of the humor may be more for adults.
THE BOTTOM LINE
So overall, I really liked Fantastic Mr. Fox but really didn't like Planet 51. It takes a lot for a movie to put me to sleep, but Planet 51 gets the honor of being the first film in years to accomplish that feat. Fantastic Mr. Fox is a brilliantly told story with a tremendous voice cast and a great script.
Netflix DVD Rentals. Only $4.99 a month. NO LATE FEES; Free Shipping. Try for FREE!