Written by Ted Sears, Otto Englander,
Webb Smith, William Cottrell,
Joseph Sabo, Erdman Penner, Aurelius Battaglia

Directed by Hamilton Luske, Ben Sharpsteen

Running Time: 1:22

Rated G


A
---
THE OPENING
70 years after it fisr hit movie screens, Pinocchio is still a fantastic film for all ages.
THE STORY
Geppetto lives in a small home with his kitten Figaro and his goldfish Cleo where he makes wonderful toys and clocks out of wood. One night, after finishing a marionette he names Pinocchio, he goes to bed and make a wish upon the wishing star, wishing that Pinocchio could be a real boy. As he sleeps, the Blue Fairy comes down from the heavens and brings the puppet to life. But, he can't become a real boy until he learns lessons on being brave, truthful, and unselfish. Jiminy Cricket becomes Pinocchio's conscience and the next morning, Pinocchio sets off for school. But he is quickly taken by the fox Honest John and sold to a puppeteer. With the help of the Blue Fairy, Pinocchio escapes, only to be taken again by the lies of Honest John. This time though, Pinocchio is sold to a man who turns bad little boys into Jackasses. Once again Pinocchio escapes, but when he and Jiminy return home, they find out Geppetto has been lost at sea and is living in the belly of a whale. Determined to get his family back, Pinocchio sets out to rescue Geppetto and in doing so, finally learns the lessons that turn him into a real boy.
THE REVIEW
It has been years since I saw Pinocchio and I have to say, the movie is still very entertaining. It is a little creepier now that I'm older and some things are just plain weird, but it's still fun. I mean let's break it down a little... an old man wanting a puppet to come to life. OK, I can accept that. He's lonely, wants a son he's never had. A Blue Fairy comes down from the sky to grant his wife. Fine, it's a Disney film, let's go with it. I think it was the portion of the movie where little boys are kidnapped and let loose to destroy a small part of town, only to then turn into donkeys. While I understand the lesson there, it is a very odd visual. And then of course the whole part about living inside of a whale. But all in all, the movie is very sweet and touching and it still holds up well today. And let's face it, you either want to buy Pinocchio or you don't. What I say about the movie won't matter too much.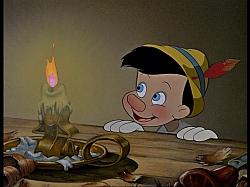 I was sent the Blu-ray version of the movie, which is not only a 2-disc Blu-ray, it also comes with a standard DVD. That being said, I don't have a Blu-ray player, so I was only able to watch the DVD and play around with those extras. Sadly, the DVD doesn't have a lot of extras. The one cool feature is a track where little bits of trivia will pop up during the movie, letting you in on some of the secrets about how the movie was made. The digital transfer to DVD looks fantastic on a high definition TV, so I can only imagine what the Blu-ray would look like. The animation, hand drawn over 40 years ago, is tremendous and it still amazes me how detailed the animators could get back in the day. It's a little sad that the day of hand drawn animation is over, but I believe Disney may have one coming out later this year or next year, so hopefully there will be a revival. While I love computer animation, something about watching something someone drew with their hands is very appealing.
The Blu-ray portion of the discs has a lot of extras that one day I hope to see. Deleted scenes, an alternate ending, carnival games, a trivia challenge, a makin-of documentary and a ton more. Disney films (and the Lord of the Rings trilogy) will end up being the main reason I get a Blu-ray player. I've seen what Disney films look like on Blu-ray and they are spectacular. And the amount of extras Disney puts on them make them worth the price.
THE BOTTOM LINE
So overall, Pinocchio is still a tremendous movie and definitely worth buying again before it sadly heads back into the Disney vault.
Netflix DVD Rentals. Only $4.99 a month. NO LATE FEES; Free Shipping. Try for FREE!