Written by Scott Neustadter & Michael H. Weber
and Steve Martin

Directed by Harald Zwart

Running Time: 1:32

Rated PG
for some suggestive humor,
brief mild language and action.

C-
---
THE OPENING
The Pink Panther 2 was a disposable comedy - OK while you're watching it but not at all memorable.
THE STORY
Inspector Clouseau is handing out parking tickets when he is called upon to lead a 'Dream Team' of international law enforcement officers to try and capture the mysterious Tornado. The Tornado has been going around the world stealing priceless artifacts including the Shroud of Turin, the Magna Carta and the invaluable Pink Panther diamond. There are many suspects but the bumbling Clouseau has his own way of tracking down the culprit, even if his compadres don't agree. But Clouseau may not be as dumb as he looks.
THE REVIEW
I'm not sure the world was screaming for a sequel to The Pink Panther but I'm happy to report the second chapter was more entertaining than the first. Both of these movies are fairly disposable. Other than Steve Martin trying to say the word 'hamburger' from the first movie, is there anything you really remember from it? And was him trying to say hamburger even that funny? Apparently the writers thought so because they bring it back the second time around. This second go around had some funny moments but in the end really isn't something I'm ever going to want to see again. Steve Martin playing the role originated by Peter Sellers was always an issue with me since there wasn't a real need to do it. He could have played a bumbling idiot and named the movie something else. Anyway, I won't go into that. The plot, as it is, has the same basic premise of the first film - to find the Pink Panther. This time however, Clouseau has some friends including ones played by Andy Garcia and Alfred Molina. I was a little surprised to see them because I don't remember seeing them in the commercials. Of course it's also possible I just skipped over the commercials and missed them. They do add a level of gravity to the film since both are award winning actors. I'm assuming this; I don't really know for certain that they've ever won anything. Best Villain maybe? Throw in Jean Reno, John Cleese, Emily Mortimer, Aishwarya Rai, Lily Tomlin and Jeremy Irons and you've got a pretty solid cast for a random comedy. None of them really stood out for anything special but at least Martin wasn't left alone.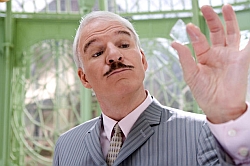 The humor obviously comes from Clouseau's idiotic mannerisms and his unique way of solving crimes. I can't honestly say what that unique way is because while he is a world-class deducer, sometimes he just falls ass backwards into things. I was able to predict who the ultimate culprit was from the moment the actor arrived on screen so there was no surprise at the end. As I said, the movie had some moments of comedy so I wasn't bored throughout. Clouseau's antics at a particular restaurant (and what happens at the poor place) was funny. Watching him get his hair shampooed by Jean Reno was entertaining. And every so often there would be a throwaway line that was rather humorous. But I can't really remember anything specific that was said that made me laugh. A professor I had in high school said I should take notes to remember things but the way I look at it, one, I can't write in the dark and still pay attention to the movie and two, if something is memorable, I'll remember it. If it's not, then I won't. I was happy to see that Bollywood superstar Aishwarya Rai was in the film as just a normal character. It's not often you get to see Bollywood stars appear in mainstream American films. So that added a little bit to my enjoyment of the movie. That being said, she's mostly just eye candy and doesn't offer up much in the way of humor.
THE BOTTOM LINE
So overall, I thought The Pink Panther 2 was under average but better than the original. And by original I mean the first Steve Martin version... the Peter Sellers films are still classic.
Netflix DVD Rentals. Only $4.99 a month. NO LATE FEES; Free Shipping. Try for FREE!