Written by Kevin James & Nick Bakay

Directed by Steve Carr

Running Time: 1:31

Rated PG
for some violence, mild crude
and suggestive humor, and language.

C-
---
THE OPENING
Paul Blart: Mall Cop was pretty much exactly what I thought it was going to be: a dumb movie with a couple of funny moments but something that could have been so much more.
THE STORY
Paul Blart is a sad sack mall security guard. For years he's been trying to join the New Jersey police force only to fall victim to hypoglycemia which causes him to collapse without enough sugar in his system. He lives at home with his mom and his young daughter. His wife married him only to get a green card then quickly skipped town. One day while wheeling around the mall in his Segway, Paul sees Amy, the new girl who runs a wig stand. He falls for her and makes an immediate ass of himself. Then one day the mall gets taken over by a gang of biker kids and Paul is the only one who can save the day.
THE REVIEW
If Paul Blart: Mall Cop hadn't been co-written by Kevin James I would have sworn that this was a movie that had been sitting around since Chris Farley died waiting for someone to take over the role. If there was a movie that was tailor made for Farley, it was this one. I don't think James is trying to become the new Chris Farley as their styles of humor are somewhat different, but that's what it felt like. The plot of the movie is very straightforward and something we've seen dozens of times over. A underestimated guy who gets shit upon by everyone comes through when it counts the most and wins the hot girl in the process. The thing is, even with a plot as obvious as this one, the movie still could have gotten more laughs.
For some reason they decided to make the movie PG instead of PG-13. What this means is there's nothing adult about the film except for watching Blart get drunk one night. The violence is comical in a Home Alone kind of way. But the movie had no edge to it. I could easily see this showing endlessly on Saturday afternoon TV because the censors wouldn't have to edit it at all. And yet it's not really a family movie that everyone will go out to see. James, while a very funny guy, still isn't leading man ready. The title of the movie is inviting, but the premise isn't so strong that people will want to rush out to see it. So what was needed was a healthy dose of funny, but the movie just doesn't get there.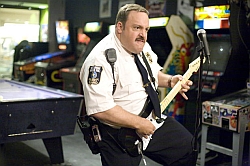 The characters are all out of a storeroom somewhere. You've got the good looking girl who looks about 20 years younger than the lead actor yet someone falls for him. You've got the jackass who tries to steal the girl but who underneath is a whimpering idiot. You've got the old high school classmate who used to pick on Blart but now respects his abilities. And you've got the shirtless Indian who... ok well that one isn't typical. None of the characters really broke out of their stock roles to add anything to the film. This movie was all about whether Kevin James could get you to laugh. And in a PG world when the biggest laughs come from him putting on a Hello Kitty bandage or not being able to slide across a floor, well, you're in for a long movie. The one big draw is that James is very likeable. He's got a very fun personality even when he's sad and you really root for him to win in the end. The movie also has a couple of big explosions and a great 80s soundtrack. And the crowd I saw it with was happy to be at a free movie so they completely got behind Blart and were cheering for him throughout. They just didn't laugh all that much, which I thought was kind of the point.
THE BOTTOM LINE
So overall, I thought Paul Blart: Mall Cop was very simple and just OK. There were a couple of moments where I laughed out loud, but for the most part I just sat there shaking my head.
Netflix DVD Rentals. Only $4.99 a month. NO LATE FEES; Free Shipping. Try for FREE!