Running Time: 2:38
(2 discs)

A
---
THE OPENING
Manilow: Music and Passion is definitely a must-see DVD for all you Manilow fans out there. And if you show it to your friends, you might just be able to make a few conversions as well.
THE REVIEW
Let it be known that I am an unabashed Barry Manilow fan. Even though for all of my life claiming to be a fan was akin to saying I (as a straight male) liked Holly Hobbie or Strawberry Shortcake, I was proud to be a Barry fan. The first music I ever remember listening to was his Tryin' To Get the Feeling cassette, which for some reason was blue. I remember losing the tape once and being very sad, but when we went to go sell my mother's station wagon, we did a quick clean of the car and there it was, lodged in the back seat. The first concert I went to was a Barry Manilow concert in Hartford, CT. He was, and still is, a master showman, telling entertaining stories in between his classic songs. For us he told us how he used to write commercial jingles and he wrote one for Hoover vacuums that they didn't like. He didn't understand why since he hit the nail on the head with the line 'Hoover, really... sucks.' To a pre-teen at his first concert, that line was a laugh riot that still sticks with me to this day. And to play to the Hartford crowd, he put on a Gordie Howe hockey jersey before singing his showstopper, 'Copacabana.' And as a side note, not knowing that it was illegal at the time, my father brought in a tape recorder and we actually bootlegged the concert. Unfortunately, I went through a rebellious stage in my teen years and thought, why do I want a Barry Manilow concert tape when I could use this blank tape to record songs off the radio? It's a very sad memory. In college, where being cool is the only thing you ever really want, I'd still blast my Barry music once in a while. His songs are so easy to sing along to and his ability to create images with his music is undeniable.
So on to the DVD, Manilow: Music and Passion. The footage was taped at his Las Vegas Hilton show in December of 2005. It pains me to say this, but Barry looks like he's hit the botox one too many times. His eyes seem like they're popping out of his head, and every so often he looks a lot like Joan Rivers. But once you get past that, his voice is still as strong as ever. The concert starts with some back stage footage of Barry and his crew preparing for the show. Then after a montage of all his album covers, Barry walks on stage to thunderous applause and immediately kicks off the show with 'It's a Miracle.' What amazes me about him the most is the crowd. There were people of every age and every race standing and cheering. It made me think that going to his show might be a good place to meet women, because unless they were all planted, there were a ton of attractive young women in the audience. He quickly goes into a three song medley of some of his older hits, then comes the first classic moment of the night. A video screen shows one of Barry's first television appearances from what must be the early 70s. He's at a piano, wearing this awful power blue shirt with rhinestones on it. He starts to play 'Mandy' and then the real life Barry appears on stage and starts to play, and sing along, with his old self. The song then morphs into another classic, 'Could It Be Magic?' with both Barry's still singing together. My only wish is that both these songs, two of his all-time greatest, could have gotten the full length treatment.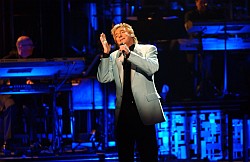 After another three songs, Barry launches into a song that my sister, another unabashed Barry fan, used as her wedding song, 'Can't Smile Without You.' I'm proud that I turned my sister on to Barry Manilow. In fact Barry and Little House on the Prairie, were the two lasting influences I've had on her. You can discuss amongst yourselves whether or not I'm a good brother. After that Barry does a medley of 50s songs, to tie in to his recent number one CD, The Greatest Songs
of the Fifties. Seriously, did anyone ever think that in the year 2006, Barry Manilow would have a CD debut at number one? After another medley set, Barry finally goes into full length songs, including two of my all-time favorites, 'Weekend in New England' and 'Somewhere Down the Road.' 'Somewhere Down the Road' may be the only song I know where the lyrics mean something to me, so it was nice to hear him sing it live, even if he was wearing a silly yellow plaid jacket at the time. Other full length songs include 'I Write the Songs,' 'Here's to Las Vegas,' and of course 'Copacabana.' 'Copacabana' was a massive production number which included a huge walkway being lifted over the crowd, and a rap portion, which was interesting, especially when Barry tried to rap along. The DVD ends with Barry, alone on stage without musicians, singing 'One Voice' before leaving to another standing ovation. Disc 2 has the bonus material, which includes a behind-the-scenes look at his Vegas show, a PBS special, a video, some pictures, and two performances that didn't make the cut, 'Tryin' To Get The Feeling Again' and 'Even Now,' both songs I know all too well.
THE BOTTOM LINE
If you're a Barry Manilow fan, there's no question you're going to want to get Manilow: Music and Passion. Watching the man perform live is always a treat. He likes to play up the image of himself being a sex god, even though it's all tongue-in-cheek. Although again, with all those attractive young women in the crowd, maybe he's on to something. He tells this great little story about how his grandfather got him to sing at an early age, and he even has the original vinyl recording of it. The stage show has a lot of dancing and production numbers which keeps your eyes entertained while your ears (and I dare say, your soul) takes in the music. There is no question his voice has not lost a step over the years. And for any newcomers to the Barry Manilow fan club, any of the CDs listed below are a great way to start a collection, but if I had to choose, Ultimate Manilow is the way to go because it has every great song he's recorded. So don't be ashamed all you closet Barry fans out there! Stand up and be proud! Music and passion were always the fashion at the Copa....
Netflix lets you rent, watch and return DVDs from home – Now from only a month!