Written by Kim Barker and
Tim Rasmussen & Vince Di Meglio

Directed by Ken Kwapis

Running Time: 1:31

Rated PG-13
for sexual humor and language.

B-
---
THE OPENING
License to Wed was a decent romantic comedy with some truly hilarious scenes.
THE STORY
Ben and Sadie are in love and planning to get married. Sadie really wants to get married inside the same church her parents were married. But in order to do that, they first must pass the test of Reverend Frank. The catch is, they have to go through his marriage course in 3 weeks, instead of the 3 months most couples get. Will they survive?
THE REVIEW
I didn't go in to License to Wed with many expectations. The films of Robin Williams over the last few years can be hit or miss. I was pleased to find though that Williams wasn't really the star of the film. The true focus of the film was on the character of Ben, played by John Krasinski, famous for being in The Office. Now I'm a huge fan of the show, so I was curious to see how he did on the big screen in what is arguably his most showy role to date. I expected him to take 3rd chair behind Williams and Mandy Moore, but instead the movie was mostly about Ben. Krasinski has a very nice, pleasant way about him. His character wasn't all that different from the one he plays on TV, except this time he actually has the girl of his dreams. He's very good at doing the 'under-your-breath' kind of humor and has some good abilities with his facial expressions. Mandy Moore is absolutely adorable so her character is immediately likeable. The more the movie progressed however, I found her character to be a little bit annoying. It was one of those instances where I felt her character was wrong but she refused to listen to reason. But she's just so darn cute! And Robin Williams was very toned down in the film. His character was the moral center of the film, the spiritual guru who knew what he was doing even though no one else understood his ways. He definitely took a backseat in the film. I got the impression that the only reason this film got made was because he was willing to lend his star power to it. Not that it wouldn't have gotten made I guess, but it wouldn't have been released in the middle of the summer without him. This film probably would have been relegated to the early Spring or early Fall time period without Williams. But he's definitely not the star.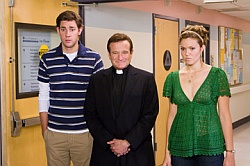 The story was pretty much what you expected it to be. A couple goes in for wedding counseling, feeling pretty happy with themselves, only to realize they don't really know each other as well as they thought. But through the trials and tribulations, they learn more about themselves and end up happily ever after. Pretty standard fare for a romantic comedy. But there were scenes in the film that were just downright hilarious. I won't ruin anything, but there's a sequence in the middle of the movie where Ben and Sadie are learning how to deal with children that was extremely funny. And most of it had to do with Krasinski and his comedic abilities. I really hope this guy becomes a star, because he really does seem like a likeable guy. The rest of the supporting cast was almost inconsequential, except for Josh Flitter who played Reverend Frank's little protégé. He's kind of creepy, but also kind of funny. Everyone else was pretty much just in the background and didn't have much to do. The movie truly rested on the shoulders of John Krasinski and he delivered. Next time around, I'd like to see him in a film that isn't as by-the-numbers as this one.
THE BOTTOM LINE
So overall, I enjoyed License to Wed. It's not a laugh-out-loud Robin Williams comedy, but more of a cute romantic comedy. There are some really funny scenes, but surprisingly, they come from someone other than Williams. It was rather refreshing.
Netflix lets you rent, watch and return DVDs from home – Now from only a month!