Written by Jeffrey Price & Peter S. Seaman

Directed by Wayne Wang

Running Time: 1:50

Rated PG-13
for some sexual reference.

B-
---
THE OPENING
Last Holiday was a fun, if far fetched, movie that rested completely on the shoulders of the Queen herself.
THE STORY
Georgia Byrd has always been the conservative one. Never dressing too sexy, never letting herself eat all the rich foods she cooked, and never letting herself talk to the man of her dreams. One day, she is diagnosed with a terminal illness and is told she only has three weeks to live. She decides to go for broke and take all of her money and blow it on a fun filled trip to the Czech Republic, home of her favorite chef. While there she runs into some people from her home state and uncovers some shady goings on. And she manages to have the time of her life.
THE REVIEW
The biggest reason this movie was fun was because of Queen Latifah. She's such a likeable person that you can't help but smile whenever she's around. Her character was also so sweet that you wanted her to be happy, even if it took a medical mystery to get her to come out of her shell. OK, so it was a little ridiculous that she, a Senator from her home state who was supposed to come to her church, and the man who owns the corporation she worked for, all ended up at the exact same place in the middle of a forest in the Czech Republic at the exact same time, but once you get over that, the rest of the film rolls right along. OK, so there were other things that were a real stretch, like the guy she liked, played by LL Cool J, trekking across the world to go after her, even though they never had so much as a real conversation before. Or Georgia playing roulette and hitting the same number three times in a row. Or making it down a double diamond trail her first time on a snowboard without killing herself or anyone else. Yet, for all these seemingly impossible things, I still couldn't help but smile because the Queen is just so sweet.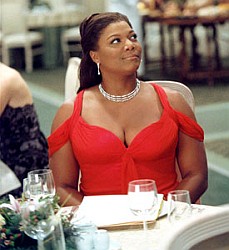 I'll admit, I went into the movie preparing for the worst, so that might explain why I happily went along with whatever happened. And there were some genuinely funny moments, including one that came from out of nowhere involving LL and the small Indian doctor. It was a strange, stupid scene but it was probably the funniest scene in the film. The supporting characters all held up reasonably well. The boss, played by Timothy Hutton, was your usual gruff guy only looking out for himself and his money, and his girlfriend, played by Alicia Witt, was less sex kitten than you might expect. Gérard Depardieu played Chef Didier and probably should have been subtitled since you can rarely tell what he's talking about. But they were all just subjects of the Queen. Latifah has a very ordinary yet, if I may say, majestic quality about her. It's not always evident, but in this kind of comedy it comes out. She reminds you of the person in your office who is quiet and sits in the corner, but is always warm and kind when you talk to her. Seeing someone like that come out of their shell is always fun because you want them to be happy. And in the movies when that person has a ton of money to spend, it's even better. It's the dream we all wish we could live out. The other good thing about the movie was the food. If you like food, and really, who doesn't, you better eat something before you go to the movie because you'll definitely walk out of the theater hungry.
THE BOTTOM LINE
So overall, I enjoyed Last Holiday. The plot was somewhat unbelievable, but the charisma of Queen Latifah carried the day and made the movie fun to watch.
Netflix lets you rent, watch and return DVDs from home – Now from only a month!