DVD Bonus Features:
Writers' Commentary
Tour of No. 42
Deleted Scenes
Photo Album
Trailers

B+
---
THE OPENING
The Kumars at No. 42 is a strange, hybrid of show that can be very funny, but if you're an American like me, you won't recognize half of the guests!
THE STORY
Sanjay fancies himself a talk show host, so he gets his parents to build him a studio in the backyard of their house. So every week a couple of guests come by the house, meet the family, then go into the backyard where a large studio audience is sitting and gets interviewed. Not just by Sanjay, but also by his parents and his grandmother.
THE REVIEW
First off, I like The Kumars at No. 42 because how often do you see an Indian family taking center stage on TV? Its nice seeing samosas being given to the guests when they arrive. It actually made me kind of hungry. Anyway, back to the actual show. The show is a combination of scripted acting, improv acting and actual interview. Sometimes it's hard to tell where one leaves off and the other one started. I could never tell if the guest was given a script or not. If not, then some of the guests are pretty impressive improv artists too. The guests however are the one thing that brought down the DVD for me personally. Not the fault of anyone involved, just that a lot of the guests are popular in England, and I have no idea who they are. For instance in the first episode on the DVD, a Michael Parkinson is introduced. I gathered he's some kind of Johnny Carson for Britain, but I've never heard of him. Fay Ripley, Gary Lineker, Claire Sweeney, Richard & Judy, Lorraine Kelly and Lesley Garrett are some of the other guests who came on the show, who all seemed quite popular with the audience, but I didn't have a clue who they were. Then there were guests like Mel B, Minnie Driver, and Richard E. Grant who were all recognizable. The humor never really came from who these people were, but at the same time I wish I had known them so I could laugh a bit harder. Apparently Judy popped out of her top once on either her show or some other show, and they had a good time making fun of that.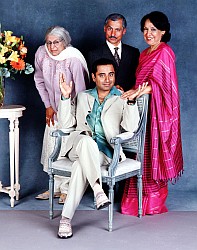 The show follows a certain format. Every episode starts with the family in their living room, discussing who the guests are that night. Then guest one arrives, meets the family, and is brought out to the studio where they are interviewed. Then there's another moment in the living room where the second guest is met, then they're brought out, while the first guest goes and sits on the couch with the family. The family always sits nearby on a couch, right up on stage so they can ask questions of the guests. The mother is always asking about family, because she wants her son to get married. The father is always asking about money and business, and at least once a show, if not once an interview, tells a long and pointless story that I started to look forward to because it would be rather funny. Sanjay tries to control the show, but always loses out to his family. The absolute highlight of every show however, is the grandmother. She's a horny little devil who loves to make fun of everyone, including herself. I don't think there's a thing she says that isn't funny. Out of the group she's easily the best improv artist and can make a joke out of anything. And just the feel of the show is lighthearted and freewheeling. You never know what's going to happen next or how absurd connections will be made.
THE BOTTOM LINE
So overall, I would definitely suggest renting or buying The Kumars at No. 42. It's a unique show without question, and even if you don't recognize everyone that appears as a guest, you'll still find yourself laughing throughout every episode.
Netflix lets you rent, watch and return DVDs from home – Now from only a month!