Written by Jeff Lowell

Directed by Betty Thomas

Running Time: 1:34

Rated PG-13
for sexual content and language.

B-
---
THE OPENING
John Tucker Must Die wasn't the best teen comedy I've ever seen, but it had enough laughs to make it worthwhile.
THE STORY
John Tucker is the star of the high school basketball team. He also happens to be dating not one, not two, but three women. There's Heather, the head cheerleader, Carrie, the smart blond who runs the school TV station, and Beth, the vegan. When all three find out what John's up to, they decide to exact some revenge. They bring in Kate, a girl who no one knows (but who has the hottest Mom on the planet.) Their plan? To get Kate to make John fall in love with her, then break his heart. Except, as you might expect, things don't go exactly according to plan.
THE REVIEW
I knew from the premise of John Tucker Must Die that there was no way the movie could have a satisfying ending. Unless this turned out to be some kind of dark comedy where people died, no one was really going to get their comeuppence. However, I accepted that from the start and allowed myself to get into the movie. As far as teen comedies go, last years Mean Girls and past classics like Ferris Bueller's Day Off still rule the roost, but John Tucker wasn't all that bad. Yes it had characters that were extremely cliched, but they all worked well together. And, most importantly, everyone in the movie was good looking. You can't go wrong with a movie where everyone is attractive. Even the 'ugly' people were attractive. How can you ever believe that someone like Brittany Snow could wander through the hallways of a high school and not get noticed? But let's move on.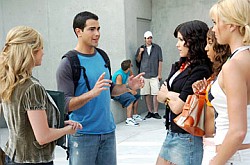 The revenge story line is nothing new. For most of history, guys have been screwing around with girls, and girls have been trying to get back at the guys. It was nice this time to see a mix of women with a black girl, a blond and a brunette as the ones being lied to. In fact, had they thrown out the blond (since Kate is already blond) and added in an Asian girl, it would have been even better. All of the girls were rather nice and taken in with John, which was understandable. Although Jesse Metcalfe looks a little old to be playing a high schooler, you can see why the women would all fall for him and his smooth talking ways. So since the story isn't new, and the people are all nice, the movie's success is left to the actual action on screen. What do these girls do to get their revenge?
I won't ruin everything, since as I said, the success of the movie falls on whether you like what they do to him, but I will say, that while not wholly original, the way they pull off the stunts can be rather funny. The entire sequence in the hotel room was arguably the highlight of the film, and the eye candy in that scene is good for men and women. The dialogue is sharp, which helps since there's a lot of talking involved in the planning. And the secondary story line, which features Kate falling for John's younger brother, was decent, if not entirely plausible. Then there was another story line which featured Kate and her mom and how Kate's outlook on men is colored by her mother's inability to find a decent guy. That story seemed to more or less be thrown in so the movie could claim to be 'deep' but it worked, especially when the mom is played by Jenny McCarthy. The rest of the cast, which featured Ashanti, Sophia Bush and Arielle Kebbel as the jilted women, all were entertaining enough. No one character really stood out, but in this kind of movie it was nice that way.
THE BOTTOM LINE
So overall, I enjoyed John Tucker Must Die. It won't be winning any awards any time soon, but for a teen comedy, it was lighthearted fun for everyone.
Netflix lets you rent, watch and return DVDs from home – Now from only a month!