Written by Habib Faisal

Directed by Shaad Ali

Running Time: 2:28

Not Rated

B
---
THE OPENING
Jhoom Barabar Jhoom was one of the better Bollywood experiences I've had.
THE STORY
Rikki and Alvira run into each other at the train station while supposedly waiting for their respective significant others. To prove that there's absolutely no flirting going on, each launches into a detailed story about how they met their fiances. Rikki met his while in Paris while Alvira met hers while being saved from a falling Superman. But things aren't necessarily how they seem, and the attraction between Rikki and Alvira threatens to derail their other 'relationships'.
THE REVIEW
What I liked most about Jhoom Barabar Jhoom was that it was funny throughout. Normally in comedic Bollywood films, they start off strong and entertaining, but always end up turning into a tear jerking drama halfway through. For once we have a film that starts off funny and stays funny. There was only one five minute segment that seemed out of place, but within the scope of the movie didn't feel like too much of a reach. Abishek Bachchan was a delight in a role where he was able to completely ham up the screen. He never took himself very seriously. Preity Zinta was also able to let loose and have some fun, instead of having to be put upon and cry like she does in most films. Rather, how most actresses in Bollywood films have to be. I haven't seen many Lara Datta films but as a former Miss Universe you can imagine she looked pretty good, especially in some of the outfits she had to wear. I thought her 'second' role was much more entertaining because it allowed her to just go all out and be a completely foul-mouthed tramp. And Bobby Deol was good as well, although I have to admit, I found his hair somewhat distracting. And of course Amitabh Bachchan showed up at various points in the film as an odd character who served no purpose other than to be Amitabh. His out fit was totally outrageous and I hope he got paid well to wear it.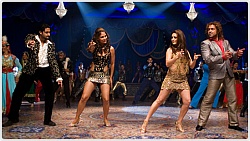 I really liked the music in the film as well. There are about four different versions of the title track, so if you don't like it the first time, hearing it over and over will be too much for you to take. But as it's now 3 days later and I've still got the song stuck in my head (and am listening to it right now in fact) you can imagine that I liked it. There were a few other songs that are kind of hit or miss, but all in all the soundtrack was pretty good. The dancing was decent as well, although there was nothing all that spectacular, except for the dance-off towards the end of the film. It's always more fun for me to see the big stars go solo, rather than be part of the ensemble.
The other thing about this movie is how racy it was for a Bollywood film. It has long been taboo in Bollywood to show people kissing, but Jhoom Barabar Jhoom didn't hold back on that account. There were noticeable gasps in the audience (mostly from older audience members) when the first kiss happened. And the second one. And the third one. And the amount of times they talked about sex and amount of swearing that went on was extremely funny, at least to me. A traditional Bollywood audience might not like or appreciate it, but I certainly did. It made the film feel more modern and I hope this trend continues. I don't mean to say I want to actually see nudity and sex acts being performed in Bollywood films, because it is still nice to know that these are movies you can watch with your parents, but to not show people kissing doesn't make sense anymore these days.
THE BOTTOM LINE
So overall, I definitely liked Jhoom Barabar Jhoom. It had good acting, some strong music and kept me entertained, and laughing, throughout.
Netflix lets you rent, watch and return DVDs from home – Now from only a month!