Written and Directed
Shirish Kunder

Running Time: 2:45

Not Rated

C+
---
THE OPENING
Jaan E Mann started off being somewhat different, but quickly settled into a traditional Bollywood story.
THE STORY
Suhan was married to Piya, but because he wanted to become a superstar actor, he left her. She waited for a while but decided to leave him and move to New York. According to their divorce decree, Suhan now owes her a ton of money. He doesn't have it, but in walks Agastya, who was in love with Piya back in college. If Suhan can get Agastya and Piya to marry, he's off the alimony hook. But, as always, feelings change and soon Suhan finds himself in love with Piya once again.
THE REVIEW
The movie starts off on a strange note. The characters have very in depth dreams and flashbacks, which other characters can see. Suhan's uncle happens to be a midget, which sets the stage for a lot of short jokes. At first, the special effects and in-jokes were kind of cute. It was nice seeing a Bollywood film not take itself so seriously and have some fun. But I've noticed in a lot of these films, the first half involves humor while the second half involves a lot of crying. And Jaan E Mann was no different.
As soon as the plan goes into effect and Suhan and Agastya team up to win Piya's heart, the movie falls into your typical Bollywood film. Every movie seems to have either a) a love triangle or b) a love square. In the love square, the partners that start off together are always wrong for each other and they will eventually swap partners. In the love triangle the problem generally is we like all three characters, but one of them will be the odd man out. And so that third character has to find someone in the last few minutes so we don't go away feeling sad for them. Oh, or of course they could just die a nice, honorable death.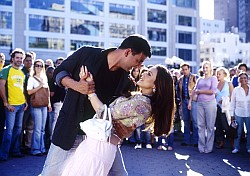 The film follows the usual path of a Bollywood film by being way too long. Even taking out the song and dance sequences, which I usually don't like but at least understand why they're in there, the movie was much too long. Why Bollywood films feel the need to have a character say the same thing three or four times in beyond me. The audience isn't stupid. If a guy says 'I love you' to a girl, he doesn't then also need to say 'I've loved you since I met you... I love you now. I will love you forever. Love is a many splendor thing. Love on the rocks. I love to love you. I love you.' Yeah, we get it, you love her... say it and move on.
The actors were all pretty good. Salman Khan (who I dislike on a personal level... how is he not in prison?) is extremely jacked and looks like he could beat up anyone if he wanted to. He definitely has the traditional Bollywood leading actor look. Preity Zinta is the 'girl-next-door' of the Bollywood scene with a smile that could light up the night sky. It's unfortunate these movies don't give her a chance to do more than dance and cry. Akshay Kumar I wasn't too familiar with before I saw the movie, but I rather liked him. All the actors were willing to go the limit for laughs, with Akshay putting on a freaky wig and braces and Salman putting on a dress and dancing at a night club. They're just all trapped in a typical movie.
THE BOTTOM LINE
So overall, I thought Jaan E Mann started off strong, but slowly fell apart. Once the initial quirky setup disappeared, the movie fell into a rut and never got out of it. Not even the music could save this film.
Netflix lets you rent, watch and return DVDs from home – Now from only a month!