Written by Jon Hurwitz & Hayden Schlossberg

Directed by Todd Strauss-Schulson

Running Time: 1:30

Rated R
for strong crude and sexual content,
graphic nudity, pervasive language,
drug use and some violence

B
---
THE OPENING
A Very Harold & Kumar 3D Christmas wasn't as funny as the first two movies in the series, but seeing the two lead characters back on the big screen was like seeing old friends again, and I didn't want the movie to end.
THE STORY
It's been a little while since Harold and Kumar have seen each other. Harold is married to the love of his life and trying desperately to impress her father by creating a winter wonderland in his house. Kumar is still a stoner who has thrown away his medical career, and his girlfriend. When a package addressed to Harold mysteriously appears on Kumar's doorstep, he decides to drop it off which leads to an awkward reunion and even worse, a fire that destroys a tree brought over by Harold's father-in-law. Once again our intrepid duo embark on a wild chase, this time to track down a Christmas tree, on Christmas Eve. And in doing so they run into Russian gangsters, babies on cocaine and of course, Neil Patrick Harris.
THE REVIEW
There have been so many R-rated raunchy comedies the last few years - and ones that made it big - that it's hard to shock audiences any more. So while A Very Harold & Kumar 3D Christmas didn't have any scenes that were truly shocking (though there is one that will make guys cringe) there were a bunch that were funny, even if they felt like other movies have been there before. The movie really hinges on the likeability of the two lead characters and for me, that's through the roof. There's just something about seeing a Korean and an Indian leading a major studio release (for the third time!) that makes me happy. I've seen the first two movies so many times, I felt like I was at a reunion of old friends when the third one started. It's nice to see that things have progressed from the last film, where they've gone their separate ways. Their personalities are pretty much the same, but they've also grown up some. Harold is now married and living in the suburbs and Kumar is hit with something almost immediately that changes his life view pretty quickly. The movie takes a little while to get going, but in the meantime we're treated to a lot of 3D smoke, which is always fun.

The 3D in this film is almost all CGI so it doesn't feel very real, but at least they're doing something with it, unlike the majority of the other 3D films which have come around in the last couple of years. Why can't 3D be fun? Ping Pong balls, eggs, smoke - all sorts of things come popping out of the screen. There is something to be said about the depth 3D gives a film, but I think most filmgoers really just want to have some fun with it. And the previously mentioned scene with poor Harold really stands out in 3D, even if you don't necessarily want it to.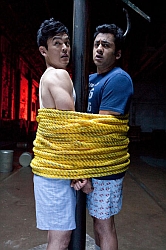 The movie has some true laugh out loud scenes, and lot of little funnier ones, but on the whole wasn't as funny as the first two films. The characters have gotten older, so their troubles are a little older as well. The first film was very simple - two guys who are high and want White Castle. The second film involved them being on the run from the cops who think they're terrorists. In this film they're dealing with in-laws and babies which makes sophomoric humor seem, well, sophomoric. While the characters have grown up, the humor hasn't. So for the fans of the series, it'll be like old times, but a part of me really wished that along with the knee-in-the-groin type humor, there was something more. The real highlight of the movie is midway through when our old friend Neil Patrick Harris shows up and turns his entire persona on its head. The movie is already bizarre in having him play himself, but now he's playing a version of himself where he's only pretending to be gay to get women. It's funny to me that a gay man plays two iconic straight male characters - himself in this movie and of course Barney on How I Met Your Mother. When NPH shows up in the movie, he takes it up a few notches and from there the movie really picks up steam. Watching Harold and Kumar reconnect and get in and out of crazy situation (including shooting Santa) is always going to be fun for me. So while the movie could have been funnier, I still would have been happy watching them for a couple more hours. Here's hoping someday soon they make Harold & Kumar 4:20. I mean really, they kind of have to, don't they?
THE BOTTOM LINE
So overall I liked A Very Harold & Kumar 3D Christmas. I love the characters and even though the movie wasn't as funny as the first two, the added attraction of 3D helped make this one entertaining and worth seeing.