Written and Directed by
Jon Hurwitz & Hayden Schlossberg

Running Time: 1:42

Rated R
for strong crude and sexual content,
graphic nudity, pervasive language and drug use.

B+
---
THE OPENING
Harold and Kumar Escape From Guantanamo Bay is a completely ridiculous, and hilarious, movie that begs for a conclusion to the stoner trilogy.
THE STORY
Just a few minutes after polishing off dozens of White Castle hamburgers, our two favorite stoners, Harold and Kumar, are on their way to Amsterdam to find the woman of Harold's dreams. Of course, while on the plane, Kumar pulls out his specially-made bong, which everyone confuses for a bomb, and the next moment our two heroes are locked up in Guantanamo Bay. After escaping (more things than you may realize), they embark on a trip to Texas, to try and track down a friend of theirs to help clear their name. Along the way they run into all sorts of creatures great and small, and one friend from their past - Neil Patrick Harris. And if at the same time, Kumar can ruin a wedding and get the girl of his dreams? All in a day's work!
THE REVIEW
There's no question Harold and Kumar Escape From Guantanamo Bay is arguably one of the dumbest comedies you will ever see. Little of it makes sense and none of it is actually possible. Well, I can't say none of it, but most of it is highly unlikely. And yet, the movie has some of the funniest (and most disturbing) scenes you'll ever see on screen. There's what has to be the film world's first bottomless party. There's a 3-way between Kumar, his ex-girlfriend and a large bag of weed (which, like most of the movie, starts of funny, gets funnier, then turns exceedingly disturbing). And there's President Bush toking up with our two anti-heroes. And in between there's all sorts of humor, much of it drug or race related.
Rob Corddry plays an FBI agent hunting down Harold and Kumar, and he may be the most racist person you'll ever see in a movie. Everyone who isn't white (and Catholic) is a suspect, and the manner in which he goes about trying to get information is painfully racist and funny. Whether it's grape soda and a black witness, or nickels to a Jewish pair of friends (who you'll recognize from the original film), he'll do whatever it takes to get Harold and Kumar and send them back to prison.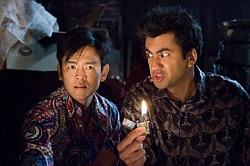 Yes, the movie title involves them escaping from the notorious prison in Cuba, but that portion of the film lasts all of five minutes. And even though the movie starts 5 minutes after the first one ends, the movie isn't really about them going to Amsterdam to find Harold's love. The movie really turns into a cross country trip to Texas to try and clear their names. From Cuba to Miami, through Alabama and Louisiana, the potheads we love to love have to get through all manner of obstacles to try and get to a former classmates wedding, so he can use his connections to save them. Along the way Kumar sees an ex-girlfriend, who coincidentally is getting married to their classmate. He realizes on the spot he's still in love with her, so getting to the wedding now has more purpose. Oh, and of course, Neil Patrick Harris is still driving aimlessly around the country and runs into the guys again. This leads to a scene at a whorehouse, and a shocking conclusion. By the way, don't leave the theater too quickly when the movie ends. Stay for the credits so you don't miss the very end of the film.
I laughed throughout most of the film, groaned in a couple of places, and had to say 'Oh God!' a couple of times as well. The people in the theater were a strange mix because while most loved it, there were a few who just sat there stonefaced. Why would anyone go to this movie and sit there with a blank look on their face? What did they expect? An Oscar-worthy film? This movie is rude and crude, disgusting and hilarious. It's the kind of movie you go to with a blank mind and have a good time.
THE BOTTOM LINE
So overall, I thought Harold and Kumar Escape From Guantanamo Bay was one of the dumbest, yet funniest movies I've seen in a while. It's one of those movies I think you'll be able to watch over and over and keep catching different moments to make you laugh out loud.
Netflix DVD Rentals. Only $4.99 a month. NO LATE FEES; Free Shipping. Try for FREE!