Written and Directed
by Rob Zombie

Running Time: 2:00

Rated R
for strong brutal bloody violence
and terror throughout, sexual content,
graphic nudity and language.

B
---
THE OPENING
Rob Zombie's reimagining of Halloween could never live up to the original, but was pretty good on its own merits.
THE STORY
Young Michael Myers is a troubled young boy. He's got a loving mother but she's got a hard-ass boyfriend who taunts the poor kid every chance he gets. Michael is small and picked on at school. He takes his aggressions out by torturing small animals before one day snapping and killing one of his school's tormenters. Then he truly flies off the deep end and ends up killing almost his entire family, save for his baby sister Laurie. Michael is sent off to a mental hospital where he grows up, hiding daily behind masks. He escapes, hellbent on returning home and finishing off the rest of his family. Only his doctor knows the truth behind Michael's psychotic behavior, and is the only person who can slow the monster down.
THE REVIEW
Let me just start by saying that I feel the original Halloween is arguably the greatest horror film of all time. It had everything you could possibly hope for and it was, at the time, highly original. I don't know anyone who hasn't sat in the dark and watched it and not been scared. Michael Myers is the prototypical horror icon and just looking at him can give you chills. So when I heard they were going to reboot the franchise I had my doubts. But then I heard Rob Zombie was going to take the helm and I relaxed a little. His past films were bloody disturbing and not my favorites, but I had to admit they were well made. And I had a feeling he was the one person who would actually think about reimagining the franchise from a fan perspective and not a marketing one. Adding in an extended back story to show some of how Michael came to be was a smart touch. At this point, horror characters are the ones that fans cheer for. I don't think people now go into these kinds of films and want people to survive. The more mayhem the better, so you want the killer to go nuts and have some fun while he does it. Allowing us to see into Michael's past gives us a reason to like him, even if he is a psychopath. I felt bad for young Michael. He had a really hot mom, but a sister who ignored him and a father figure who was abusive. He was picked on at school without mercy and had no outlet. So he went a little nutty. Who can blame him? I blame society. And then Michael spends years in captivity, yearning to get out and return to the home he once knew. But the man keeps him down. So he escapes to reunite with his baby sister, only to have all these people stand in his way. What is he to do but get rid of them?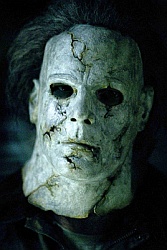 I can't wait to see how many people take me seriously. Anyway, what do you look for from a horror film? First and foremost, you want to be scared. A lot of horror films these days are less scary and more disgusting. Rob Zombie is a part of that group of filmmaker who wants to make you sick rather than scare you. However for this film he decided to go old fashioned and use tried and true horror techniques to add some fear. It wasn't as brutal a film as you might expect, but there was still some good violence. But there were also moments that will have you jump out of your seat, even when you know what's coming. What else do you want from a good horror film? How about sex, drugs and rock and roll? Yes, this movie had it all. Young teens having sex in empty houses, drinking beer and playing 'Don't Fear the Reaper' just before they die. All things considered, Halloween had everything you could want from a horror film. I think if this hadn't been a remake of a beloved favorite, people would have embraced it more. But since everyone who sees it, who has seen the original, will compare the two, the only thing they'll think about is how it doesn't compare. And they're right, it doesn't, but standing on its own two feet, Halloween is a good horror film for the modern fan and is definitely worth a viewing.
DVD EXTRAS
The 2-Disc Unrated Director's Cut comes with a ton of extras. Disc one holds the director's commentary, while disc two holds everything else. There's an alternate ending which I actually preferred, although I can understand why it was removed. There are deleted scenes which don't offer much more as far as the story goes. There were a bunch of screen tests which I found interesting. You don't often see actors testing for roles. The DVD also had the usual behind-the-scenes documentaries. The funniest thing was the blooper reel. I don't recall ever seeing a blooper reel for a horror film before. What you learn from the bloopers is that Malcolm McDowell is a horny old man who swears like a sailor and always manages to bring the people around him down to his level. If you're going to pick up the DVD, getting this 2-Disc Unrated Director's Cut is the way to go.
THE BOTTOM LINE
So overall I liked Halloween. It's hard to be scared at horror movies these days, but Zombie did a good job of trying to bring the old-fashioned slasher film to modern times. It has sex, drugs and violence - what more do you want?
Netflix DVD Rentals. Only $4.99 a month. NO LATE FEES; Free Shipping. Try for FREE!