25 Episodes

Running Time: 1063 minutes

A
---
THE REVIEW
My friend Sarina is back with her take on Season 2:

Spotted: Serena van der Woodsen pretend-dating Nate to cover up his Hamptons relationship, Chuck surrounding himself with models to recover from being heartbroken by Blair-Bear, and Dan writing stories about why he and S broke up. Gossip Girl returns stronger than ever with a season packed with gossip not even the Upper East Siders are prepared for.

The show brings back all the same main characters from its first season with Kristen Bell narrating as gossip girl, a secretive blogger who publicizes all the latest gossip on high school students attending on the Upper East Side. This season the main characters of Gossip Girl, who are now in their senior year of high school, all seem to deal with bigger, more dangerous battles on top of the constant looming cloud of college.

Serena van der Woodsen (Blake Lively) returns this season exactly where she left off- still testing the waters as an obedient and disciplined UESider who plays nice. Unfortunately, this behavior lasts only as long as it takes her to run into old friend and model socialite, Poppy Lifton, who convinces her that the, 'It Girl' status she once had is drifting away quickly. Between sabotaging Jenny Humphreys Sweet Sixteen party then running away from the disaster that ensued to Spain with Poppy, Serena ends up back home convinced she is now married to Poppy's boyfriend, Gabriel. This whirlwind of an adventure eventually puts Serena in jail, with her potential husband running off with all of UES money. But not to worry, she ends up at Brown nevertheless.

Blair Waldorf (Leighton Meester) begins the season dating Lord Marcus, in order to break Chuck's heart. Somewhere in between trying to impress Marcus' stepmother, Dutchess Catherine, and trying to make Chuck jealous, she discovers that Catherine is not only sleeping with her ex Nate Archibald and paying him for it (!!), but also sleeping with her stepson Marcus. Blair bounces back to her conniving ways to blackmail all parties involved. Meanwhile, her struggle to fulfill her childhood dream of attending Yale is revoked when she messes with the wrong person, their new English teacher, Miss Carr. Blair spirals out of control when her life seems to fall apart. She jumps back and forth between Chuck and Nate in what seems to be a triangle of star crossed lovers. But eventually she settles for her love with Chuck and her new school NYU.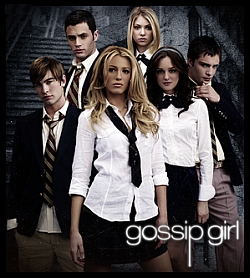 Nate (Chace Crawford) and Chuck (Ed Westwick) have a falling out over their love for Queen B. Nate struggles to cope with his new family situation, now that his father is on the FBI wanted list for conning Upper East Siders out of their savings/trust funds. Nate bounces between Catherine, Vanessa, and Blair eventually agreeing to go on a backpacking trip through Europe with Vanessa. He also successfully agrees to attend Columbia. Chuck on the other hand continues with his mysterious ways. He unfortunately loses his father, Bart Bass, in an accident, but is brought back to earth through Lily's adoption and her kind acceptance of Chuck into her new family. He also has his own love issues- from battling with his true love for Blair, to the myriad of one night stands including Vanessa (Jessica Szohr), and finally to getting caught up in his father's elite sex cabal. Chuck ends on a high note proclaiming his love for his one and only Blair Waldorf.

Dan (Penn Badgley) and Jenny (Taylor Momsen) are still very much a part of the elite circle this season. Jenny works for Eleanor Waldorf, inspiring her to gain emancipation from her father so she can independently quit high school and begin her own business. Dan basks in the glory of being single now by focusing on his writing skills. Unfortunately, he uncovers a real-estate related manslaughter/arson scandal in the Bass family from the 80's. He gives up on his investigative skills and turns back to dating where he ends up sleeping with a new English teacher, eventually getting her fired! He comes to terms with the fact that his father cannot afford Yale, so he accepts a spot at NYU.

The adults on the show don't take a backstage seat either. Blair's mother gets married, Lily manages to lose one husband, reveal her nineties love child with Rufus Humphrey, but still bounces back with a proposal from Humphrey during a nostalgia high. We even get a flashback to Lily's childhood which uncovers the truth about her history with men and her issues with her mother. Rufus, all the meanwhile, struggles to pay for Dan's education.

The finale of Gossip Girl this season was to die for. Serena attempts to reveal Gossip Girls identity which results in GG dropping every gossip bomb she ever received. We learn that GG has threatened to follow each and every one of these characters through their new adventures in college, setting up next season perfectly.

In short: still the best show ever made. OMFG XOXO

Netflix DVD Rentals. Only $4.99 a month. NO LATE FEES; Free Shipping. Try for FREE!