18 Episodes

Running Time: 1024 minutes

A
---
THE REVIEW
I am a male in his mid-30s - definitely not the target audience for Gossip Girl. So in order to better write this review, I enlisted the help of a close family friend of mine. She is 24 and lives in New York with her roommate. Her name is Sarina and at the time this show aired, her roommate's name was Blair. So as you might imagine, they immediately felt a certain kinship with the show. What cemented their love of the show, I think, was when an episode was actually filmed outside of their apartment. And to complete the circle, Sarina just met one of the stars of the show, Blake Lively, on Fifth Avenue. What you'll read below is taken mostly from a Q&A session I had with Sarina. My comments will be in italics - everything else is from Sarina.
I started by asking Sarina what the main idea behind the show was, who some of the major characters were, and what they were like:
The show is based on a series of novels by Cecily von Ziegesar and the episodes are narrated by Gossip Girl (voiced by Kristen Bell) - a mysterious character who runs a blog which contains all the latest gossip on upper east siders. Students text her all the latest gossip and she posts it on her blog which then instigates cat fights and fist fights -- always highly entertaining. The characters on the show check the blog almost as frequently as we check the NYtimes.com or Facebook. I will admit to checking Facebook all day - Sarina is the one who reads the New York Times.
The main characters are Serena van der Woodsen (Blake Lively) who is best friends with Blair Waldorf (Leighton Meester) who begins the season dating hottie Nate Archibald (Chace Crawford) who is best friends with Chuck Bass (Ed Westwick). Serena dates Dan Humphrey (Penn Badgley) a hipster from Brooklyn whose sister Jenny Humphrey (Taylor Momsen) struggles as a freshman to join Blair's popular group of friends. Some of the secondary characters include Serena's brother Eric (Connor Paolo) who begins the season recovering from a suicide attempt at an institution and Dan's old friend from childhood Vanessa Abrams (Jessica Szohr) who jumps into the season half way through to stir things up between Dan and Serena.
The season begins with scandalous Serena returning from mysterious 6 month absence at a boarding school. Rumors spread about why she left. As it turns out she returns because her younger brother Eric tried to committ suicide but their popular, gorgeous, wealthy divorced mother refuses to let the public know of this disgracing fact. Serena hopes to pick up her friendship with Blair right where they left it off before she disappeared--despite having left right after sleeping with Blair's boyfriend Nate. The best part about it is Blair was still a virgin and was saving herself for the perfect moment with Nate. But Blair was heartbroken when Serena left without so much as a note or a phone call. Blair has now become the 'It' girl. The season unfolds to watch the Queen Bee (for Bitch and Blair) punish Serena upon finding out about her and Nate. Blair is also struggling to come to terms with the fact that her father recently left her mother for another man in Paris and her ongoing struggle with bulimia.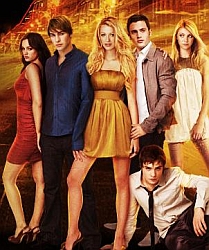 Nate and Chuck are best friends. Nate is the classy rich boy who is polite and has a long term girlfriend etc etc.( looks like he has everything going for him). His father works for Blair's mother (clothing designer-total big shot). It turns out Nate's father is a coke addict who gets caught for his drugs AND for putting his family into serious debt. Nate puts on the image of being perfect except for the small insignificant fact that he is head over heels in love with Serena and slept with her just before she left. Chuck is the spoiled rich boy who spends his divorced fathers money on hookers, strippers, drugs, and God knows what else. He is the most manipulative person in the world - well maybe tied with Blair. Blair breaks up with Nate and ends up sleeping with Chuck in the back of his limo that same night. Lots of fun drama unravels when Blair finally gets back with Nate and Chuck has feelings for Blair. Gossip Girl ends up telling the big secret that Blair thinks shes pregnant but doesn't know who that father is! In the mean time Serena and Dan start dating early on. Turns out Serena's mom, Lillian van der Woodsen (I love the names on this show) was a groupie for Dan's father's band and they got down and dirty years ago. Awkwardddddness ensues when that is discovered over the Thanksgiving dinner with Dan's mother (who left, had an affair, and is now back to try and mend the family) is there also.
At this point I asked Sarina what she thought the highs and lows of the season were:
The monumental moment of the season is when Serena admits to having killed someone, and we find Lily waking up the morning of her wedding day (where she is supposed to marry Chuck's dad) lying next to Dan Humphrey's dad Ruphus! The season ends with every relationship ending and everyone single and ready to mingle if you know what I mean. What is bad about the show is that it is SO good you can't stop watching it. Best thing about the show is that we have two main characters one with my name the other with my roomate's name, they are living and partying in the city we are also in, and they filmed on OUR STREET, and the show started out as our guilty pleasure and turned out to be just fan-freakin-tastic. We literally just cant get enough of it.
So there you have it. An inside view of the show from the target demographic. While it's definitely not a show for everyone, the people who are meant to watch it will love it. The rest of us will just have to tolerate listening about it. Stay tuned for Season Two, debuting on September 1, 2008. And some info on the actual DVD set - The five-disc set includes all 18 episodes from the first season and four hours of Special Features including three all-new Featurettes, Deleted Scenes, Gag Reel, Music Videos and a FREE Download of the original bestselling book read by Christina Ricci!
Netflix DVD Rentals. Only $4.99 a month. NO LATE FEES; Free Shipping. Try for FREE!