Written by Ben Affleck & Aaron Stockard

Directed by Ben Affleck

Running Time: 1:54

Rated R
for violence, drug content and pervasive language.

A-
---
THE OPENING
Gone Baby Gone was a surprisingly strong and heartbreaking film with terrific performances.
THE STORY
4-year-old Amanda McCready is kidnapped from her home in the Boston-area. Being a cute white girl in today's society, the media immediately jump all over the story. The cops are having a hard time finding any clues, so the girl's uncle and aunt hire Patrick and Angie, two private detectives, to try and help the police. Patrick is from the area and knows the people and places like the back of his hand. Working closely with two police detectives, Patrick slowly uncovers layers upon layers of secrets and lies which ultimately lead him to a startling discovery and forces him to make a decision which will affect the future lives of everyone around him.
THE REVIEW
I'll admit, when I heard Ben Affleck was going to be directing Gone Baby Gone was a tremendous directorial debut. Maybe this will keep Affleck behind the camera from now on. Frankly, I'm surprised the movie hasn't gotten more award recognition. Amy Ryan has gotten the lion's share of attention but the entire cast and crew should be applauded.
First off were the performances. I was never really a big believer in Casey Affleck. He just looks like a little brother and I never took him seriously. But after this role, I'm a fan. While he looks young, his portrayal of Patrick was extremely moving. Throughout the movie he tries as hard as he can to make the right decisions; to do the right thing whenever possible. This leads to a heartbreaking decision at the end of the film which will have people arguing for hours on end. Did he make the right decision? Who knows... but you could see the emotion in his eyes during the final scene, wondering if what he did was right. Amy Ryan was amazing as the mother with plenty of secrets of her own. Ed Harris brought extreme power to what turns into a very important role. And the rest of the supporting cast kept up with the major players. Only Morgan Freeman's child-saving police Captain's character felt a little uneven.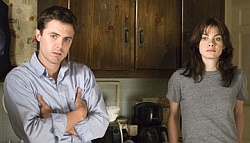 The movie had a very 'real' feel to it. A big deal was made out of it being films on the streets of Boston and the surrounding areas and it helps. One of the DVD extras discusses the casting of locals to keep the flavor of the area intact and I think it really helped. A lot of the background actors didn't feel like actors and I think that helped the 'real' feeling. While I don't feel as strongly as some of the filmmakers about how the city became an important member of the cast, I do feel it was important to film in actual locations, rather than trying to build them in Canada or Los Angeles. And with the Affleck brothers having been born and raised in the area, it helped the characters feel more at home. Ben Affleck did a very smart thing in having Oscar winner John Toll as his director of photography. When you're a first time director, no matter how many sets you've been on, being behind the camera is a whole other world, and having someone with the experience of Toll help guide you is invaluable. The entire movie looked fantastic. Every shot had a purpose and nothing felt staged or extraneous. There are some truly amazing shots in the film.
The script was very dense with a lot of twists and turns, some a real surprise, some you could see coming a mile away. There were a few things that were very convenient that helped solve some of the secrets which took away a little bit of the enjoyment for me. But all in all it was a well written film with some really sharp dialogue. But for me the best part of the film comes towards the end when Patrick has solved the crime and has to make one final decision that will affect everyone around him. At that point it wasn't about what was said, it was about how all the actors reacted to the decision. Every one of them had a different view of what happened and you could see it all play out in their emotions. The final series of shots were extremely heartbreaking and perfectly wrapped up a beautiful film.
DVD EXTRAS
There were only a few extras on the DVD. There were a handful of deleted scenes, including what is billed as a 'thought-provoking alternate ending' which amounted to the same ending, but with 3 lines of voiceover. Not completely sure they were thought-provoking lines, but that can be debated. Then there were two behind-the-scenes featurettes which gave some background into the casting and the locations. Nothing all that in-depth and eye opening, but interesting if you care about that kind of thing.
THE BOTTOM LINE
So overall, I really enjoyed Gone Baby Gone. It was definitely an actor's showcase and first-time director Ben Affleck did a tremendous job getting fantastic performances from his cast.
---
Netflix DVD Rentals. Only $4.99 a month. NO LATE FEES; Free Shipping. Try for FREE!