Written by Jon Lucas and Scott Moore

Directed by Mark Waters

Running Time: 1:40

Rated PG-13
for sexual content throughout,
some language and a drug reference

B-
---
THE OPENING
Ghosts of Girlfriends Past was actually a lot better than I thought it was going to be.
THE STORY
Connor Mead is a world famous photographer and womanizer. Every night he has a different woman (or two, or three) in his bed and he doesn't have a care in the world. He'll go so far as to break up with three women at the same time on a conference call. He's also not a big believer in marriage, so when he goes back to his childhood home to his brother's wedding, all hell breaks loose. Connor is visited by the ghost of the dead uncle who raised him, who warns Connor that if he doesn't change his ways, his life won't be as happy as he thinks. Throughout the night, Connor is visited by the ghosts of girlfriends past, present and future, and shown how his actions have affected those in his past and what his future will eventually become. It is only then that Connor realizes that the love of his life may have been the first girl he ever knew.
THE REVIEW
Let's face it, there's really nothing original about Ghosts of Girlfriends Past. The story idea is ripped off, the characters are extremely one-dimensional and Matthew McConaughey could play this kind of role in his sleep. Yet somehow, it all works. First off, if you don't like McConaughey, you will hate this movie. For those of you (us) who still like him and/or can still tolerate him, the movie is right in his wheelhouse. He plays a charming, overly cocky guy who can get any woman he wants. There's a scene early on where he first gets to his brother's wedding and the rest of the crew is rehearsing for the ceremony the next day. Connor walks into the room and from the look on every single person's face in that scene, you can tell they know that McConaughey is the coolest and best looking person in the movie. There is sort of a resolved look on their faces that says 'ok, well I can't compare to him, so I'll just do my best to keep up.' It's like if you're the best basketball player amongst your small group of friends, then suddenly you enter into a pickup game that includes LeBron James.
The movie manages to be very funny throughout and never really gets stuck in the whole romance angle. Obviously that's where the movie is going, with Connor and his childhood sweetheart Jenny (Jennifer Garner) getting together. Like most movies of its ilk, first Connor has to go through his introspective journey before he can commit to his love. And since the movie keeps up a pretty good pace, we're never stuck with Connor becoming sad or heartbroken for too long. Yes, there are some cheesy scenes but the screenwriters did a good job of still keeping the humor up.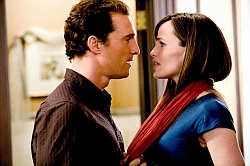 The rest of the cast is strictly there to keep up. I like Jennifer Garner but let's face it, this role could have gone to any number of women. What I do like about her is that she isn't the typical bubbly leading lady. You could see she did have control over herself which is what Connor needed. Breckin Meyer and Lacey Chabert were cute as the couple getting married. Robert Forster was pretty funny as the bride's father and former Sergeant in the Korean War, who ran the wedding like a military procedure. And Michael Douglas was spot-on as a 70s era Playboy whose life Connor wanted to live since he was a teenager. It's not a role you see from Douglas very often and he was very funny when he was on screen. With the movie taking place during pivotal moments of Connor's life, we get to see fashions and listen to music from different eras. I'd have to say his high school dance was probably my favorite because I am a child of the 80s after all. And the 70s too I suppose, but I don't remember them too well.
DVD EXTRAS
The DVD has no extras on it, which is rather surprising considering you'd think they'd throw at least a gag reel or outtakes or something on there. So that was a little disappointing. The film is available on Blu-ray, DVD, On Demand & Digital Download September 22nd. Here's hoping one of those other formats gives you something extra. Choosing between widescreen and full screen isn't enough for me.
THE BOTTOM LINE
So overall, I enjoyed Ghosts of Girlfriends Past. Even though there is absolutely nothing new about the movie, Matthew McConaughey somehow still made it all work. It's definitely a good romantic comedy that has a lot more laughs than you might imagine.
Netflix DVD Rentals. Only $4.99 a month. NO LATE FEES; Free Shipping. Try for FREE!