Written by John Claflin & Daniel Zelman
and Andy Tennant

Directed by Andy Tennant

Running Time: 1:30

Rated PG-13
for action violence, some sexual material,
brief nudity and language.

D
---
THE OPENING
Fool's Gold was an awful, awful movie but one which will probably still make a lot of money because Matthew McConaughey spends half the movie with his shirt off.
THE STORY
OK let's see... As the movie begins, Tess and Ben are already separated and heading towards a divorce. Ben only really thinks of himself and Tess has moved on to work for a really rich guy on his yacht. Ben misses the divorce hearing, while at the same time losing everything he owns and having a rich rapper want to kill him. He manages to weasel his way on to Tess's boat and get the old rich guy to help fund his latest treasure hunt. Tess of course is annoyed and upset with this, but quickly falls for Ben again. Together they find a long lost treasure and live happily ever after.
THE REVIEW
Matthew McConaughey has talent. I firmly believe that. He's been in enough non-fluff movies to show his abilities. Yet he continually falls back into his comfort zone - the romantic comedy. Kate Hudson also has talent. Yet for some reason she has decided to get back with McConaughey and do another romantic comedy. Here's the problem. The movie had no romance and no comedy. So what do you have when you take the romance and comedy out of a romantic comedy? A boring, uninspired mess of a movie. Maybe they did it for the paycheck? Or the opportunity to spend a lot of time in some exotic looking locations? Or maybe they enjoy seeing each other without a lot of clothing. I don't know. Whatever reason they had to make this film, it wasn't worth what it'll do to their souls.
Since the movie starts off with them already separated, we never get a chance to see why they liked each other in the first place. Like a thousand movies beforehand, we're just supposed to believe that it was all physical. Yes, the script actually does say that at one point, so I'll give them credit for that, but really? An entire movie is supposed to hinge on the fact that these two people liked having sex with each other? Why on Earth would I care about that? I'm not having sex with them! So with the 'romance' portion really being 'lust' maybe this should be a lust comedy. But wait, there was no comedy. I mean I don't think I laughed once during the film, not even in disgust. Neither of these two are naturally funny people so it's not like we'll laugh at the way they read their lines. They need to have something funny written for them, and it wasn't there.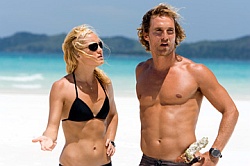 I would now like to take a moment to discuss Alexis Dziena. She played the rich old man's rich, obnoxious daughter. Kind of a Paris Hilton-esque figure who likes to spend her father's money and that's about it. In all my years of watching movies, I don't think I've ever seen a character I hated as much as her. I can understand that her character was supposed to be spoiled and stupid, but was she supposed to look and sound so annoying? It was like nails on a chalkboard with her. I've only ever seen her in one other movie and there she walked around completely naked so I was a little distracted, so I'm not sure if she's a good actress or not, but in this role I hated her. And while initially I was supposed to, as the movie went on she was supposed to turn into one of the 'good' guys but I never liked her.
The rest of the supporting cast just went through the emotions. I'm not sure how a rapper named Big Bunny made it into the script considering at no point did he rap. Why was he a rapper? What did that add? Donald Sutherland, who I know can act, was the rich old guy with an odd accent and no real purpose other than to throw money around. There was a small subplot about him trying to form a relationship with his daughter which went nowhere. Frankly I'm pretty sure he found his daughter as annoying as I did. I was happy to see former Cosby kid Malcolm-Jamal Warner make an appearance. He's put on a few pounds but I haven't seen him in a while. Not to see him getting some work.
Oh, and the good things about the movie? Well from my perspective, Kate Hudson in a bikini on the beach. From a female perspective? Matthew McConaughey spending half the movie with his shirt off. And at one point, his pants off. And some of the locations were nice to look at.
THE BOTTOM LINE
So overall, I thought Fool's Gold was a waste of celluloid. Can't really think of much else to say.
---
Netflix DVD Rentals. Only $4.99 a month. NO LATE FEES; Free Shipping. Try for FREE!