Written by Steve Oedekerk

Directed by Tom Shadyac

Running Time: 1:35

Rated PG
for mild rude humor and some peril.

B-
---
THE OPENING
Evan Almighty was a fun film sweet enough for the whole family to enjoy together.
THE STORY
Evan Baxter, last seen as a news anchor in Buffalo, has just been elected to Congress. But as he settles into his new home, along with his beautiful wife and 3 so-so looking sons, God decides that Evan needs to build an ark. God never gives Evan a reason, but Evan, whether he wants to or not, is going to build that ark because in the end, God is always right.
THE REVIEW
Evan Almighty picks up from the same location as Bruce Almighty with Steve Carell behind the news desk. But it quickly picks up and moves him to Washington D.C. for his new job as Congressman. He's got the hot wife, the three kids and seemingly everything he could want, right in the palm of his hand. But as he prays the night before his first day on the job, he wishes he and his family could be closer. And God drops in to give him what he asks for. But as with most things God offers, nothing is spelled out in black and white. Everything is learned through experiences. It's a simple enough story and solid enough to rest the movie upon. I'm a huge Steve Carell fan, so I was looking forward to this movie from the time it was announced. I don't feel he was able to really get the character going because outside forces were propelling him along most of the time. There was one sequence in the middle of the film as his looks are changing that his true comedic abilities really came through, but otherwise he was more reserved and let the movie call the shots. There is no question this film is geared towards the family crowd. The first film was definitely more adult, but with the kids and the animals, Evan Almighty is something everyone can enjoy.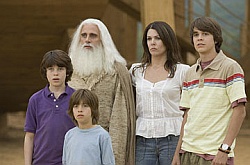 The supporting cast got a lot of airtime, especially Wanda Sykes as Carell's executive secretary. I'm not sure if the writer or director was in love with her, but Sykes got a lot of screen time. There were times when she wasn't even in the main scene and they'd still cut to her for a quick one-liner. Her lines were sort of hit or miss however so I'm not sure that was a smart thing to do. John Goodman as another Congressman was fun as the token bad guy in the film. And I'd like to right here and now declare my love for Lauren Graham. She's a talented actress, criminally overlooked for her work in Gilmore Girls and one of the most beautiful women I've ever seen. I could watch her read the phone book in pig-latin and die a happy man, with those big, beautiful blue eyes looking at me... Where was I?
The special effects in the film were passable, but not great. I can imagine it must have been somewhat difficult to have thousands of animals on screen at once and have an ark swim through the streets of Washington. I think the most impressive part of the film was the actual ark. The people who created that did a tremendous job. As I said before, the story wasn't the greatest, but it was a solid foundation, even if the 'plot' felt rushed towards the end. The real joy of the film lands on the sweetness and dedication of Carell's character as he willingly puts his heart into the hands of God and trusts that God knows what he's doing. And when his family starts to believe as well, you could feel the love in the room.
THE BOTTOM LINE
So overall I liked Evan Almighty. It wasn't a laugh-out-loud comedy the entire way through, but there are parts that are hilarious. And the entire movie is just very sweet and touching and something everyone can see. There should be more movies like this one.
Netflix lets you rent, watch and return DVDs from home – Now from only a month!