Written by Bill Kelly

Directed by Kevin Lima

Running Time: 1:47

Rated PG
for scary images and mild innuendo.

A
---
THE OPENING
Enchanted was a brilliant and beautiful movie that is Disney at its finest.
THE STORY
Desperate to hold on to her throne, the evil Queen Narissa of Andalasia sends her son Prince Edward's one true love Giselle to the land where dreams never come true. New York. Giselle is lost among the real life citizens of our fair city and is anxiously awaiting her Prince's rescue, when she meets divorce lawyer Robert and his daughter Morgan. The two New Yorkers take in our soon-to-be Princess and try to help her survive the city. Meanwhile, Prince Edward and Giselle's best friend Pip (a chipmunk) head down the same magical well to try and save Giselle. And Queen Narissa sends her henchman Nathaniel after all of them. As she lives in the real world Giselle starts to realize that maybe your one true love doesn't happen in an instant. And Robert realizes that maybe it does.
THE REVIEW
I absolutely loved Enchanted. I'm a big Disney fan and this was a movie that was both a typical genre film as well as the perfect send-up of the same genre. Whether you're a fan of romantic comedies or the old school Disney classics, this is the film for you. It starts off as an animated tale, mimicking many stories of the past. The beautiful, innocent young girl, her cadre of talking animals and her dream of meeting her one true love. But of course her one true love has an evil mother who will do anything to save her place on the throne. Then the movie takes the twist of all twists and throws our animated heroine into a live-action New York City. She ends up in the middle of Times Square, which is funny for many reasons, not the least of which is the fact that everyone says over the last decade, Times Square has become "Disneyfied". But it seems that once a Disney heroine, always a Disney heroine since Giselle's ability to communicate with animals isn't only reserved for the animated world.
Amy Adams was absolutely perfect as Giselle. She has the right amount of beauty mixed with a wide-eyed innocence. And in the final scene at the ball, she looked stunning. It was easy to see why any man would fall in love with her, animated or not. It was a performance I think that was underappreciated and should have gotten a lot more recognition than it did. James Marsden was spot on as the Prince as was Susan Sarandon as the evil Queen. Patrick Dempsey was solid as the non-believer in the group although his character did go a bit overboard at times. And his hair was a character in itself, changing sometimes within the same scene.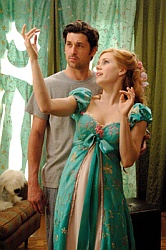 The only real issue I had with the movie was the very end of it during the climactic ballroom scene. When I saw the movie in theaters it bothered me more than it did when seeing it for the second time on DVD. But while I know the dragon scene was another homage to past Disney films, it felt a little out of place. Maybe if they had taken Susan Sarandon's voice and altered it to make her sound more like a dragon it would have helped. But hearing her normal voice, the one she used as the Queen, now come out of a 35 foot dragon didn't sound right at all. And considering everything else that happened during the movie, the extreme size of the ending felt like it came out of nowhere. Like I said, when I saw the movie in theaters, it felt more out of place, but watching it again it felt like it flowed better. It may just be because I knew it was coming but either way, it wasn't as bad. But none of this should be taken as if it ruined the movie because it didn't. It was just something that felt slightly out of place, but taken as a whole, the movie was still fantastic.
And lastly, there's the music. This movie takes you back to the glory days of Disney films where you could rely on there being a couple of big production numbers and great songs. Considering three of them were nominated for Oscars it's not that much of a stretch to say how entertaining they were. Frankly I think one of them should have won, but I'm guessing they cancelled each other out, opening the door for someone else to win. And the rest of the soundtrack (which I am currently listening to) is also a throwback to older Disney films.
DVD EXTRAS
The DVD comes with a bunch of extras. There are six deleted scenes with a director's introduction, none of which were integral. There's a short blooper reel which was OK. There is an animated pop-up book style story that details what happens with Pip and Prince Edward before they manage to get to New York. And there were three behind-the-scenes documentaries about three scenes, specifically the three big musical numbers. I actually found all three of them very enlightening. There's a music video with Carrie Underwood's Ever Ever After song, and if you click on the mouse ears in the bonus section, you'll get taken to a very quick clip that shows where some of the scenes from Enchanted came directly from older Disney films like Sleeping Beauty, Cinderella, Snow White, Beauty and the Beast and more. Apparently on the Blu-ray versions you get to go more in depth, which is something I would have loved. I managed to pick out a few things, but I know there were a ton I missed. I wish they had put something like that on the regular DVD.
THE BOTTOM LINE
So overall, I thought Enchanted was one of the best films of 2007. It was an almost perfect film and one that the entire family can enjoy together.
Netflix DVD Rentals. Only $4.99 a month. NO LATE FEES; Free Shipping. Try for FREE!