Written by Sam Raimi & Ivan Raimi

Directed by Sam Raimi

Running Time: 1:39

Rated PG-13
for sequences of horror violence,
terror, disturbing images and language.

B
---
THE OPENING
Drag Me To Hell was a very well made horror/thriller that was more gross than scary.
THE STORY
Young Christine has a decent life. She's happily dating Clay, a new college professor, and she's got a stable job. But there are things she worries about. There's a promotion she's up for at her job as a loan officer, but there's a kiss ass also looking to move up. Her boss tells her that she needs to step up and make the hard decisions. Unluckily for her the next opportunity that comes up involves an old lady named Mrs. Ganush who needs to extend her loan due to medical problems. Christine rejects her application and that's when all Hell breaks loose. Literally. Christine is cursed by Mrs. Ganush and within 4 days, Christine will be dragged down to hell. Now it's up to Christine to try and find a way to pass the curse along to someone else before time runs out.
THE REVIEW
The thing I liked most about Drag Me To Hell was that while there were gross scenes, it wasn't mutilated body gross, it was more about disgusting things coming out of people's mouths gross. And there a bunch of jump out of your seat moment as well. But the best part was that there was a slow build to the final shocking conclusion (even if you see it coming). The movie took its time getting through the story and getting you to the end, instead of trying beat you over the head with thrills and chills. The movie starts out 40 years in the past, setting you up for what is about to happen. You get a sense of what is in store for the next person to mess with a gypsy. Flash to present day and we meet Christine (Alison Lohman), a lovely young lady who is a little timid, but extremely likeable. You immediately care about her character. Her boyfriend Clay (Justin Long) is also very likeable. Just isn't the first person you'd think of for a horror film, but for this role he works because he's just the supportive boyfriend. And what was great about the way he was written is that he doesn't think she's gone completely nuts and gives her whatever she needs to survive. Lorna Raver as Mrs. Ganush was one of the scariest characters I've seen in a while. The makeup effects with her were tremendous and she was even able to garner a little sympathy to start off with, before she goes off the deep end. So instead of having a horror film with a bunch of annoying teenagers who you hope die off, you've got a movie filled with people you care about and want to see survive.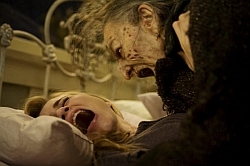 The story is straight forward enough that it doesn't take much thinking. In fact the 'person is cursed and tries to find a way to end the curse' story has been done plenty of times. The pacing of the movie is pretty good, with there only being a couple of dead spots. The characters really are the most interesting part of the film because of some of the things they end up doing and you still liking them. Poor vegetarian Christine has to do a couple of awful things that end up being funny even though in real life they'd be very sad. And the goat I think is the funniest part of the movie. There wasn't a ton of laughs in the film but enough that you never felt weighed down by the story. It never got too depressing or slow - there was just the right amount of action/suspense/horror/humor.
The visuals in the movie were pretty good. Director Sam Raimi has always had a good eye for strong visuals, especially in his earlier work (before he took that blockbuster side route). The movie always had a good sense of something hiding around the corner, but it was all very clean. This was high gloss horror instead of grimy horror, which was the right move because the absurdity of some of the moments wouldn't have gone over well if the film was very gritty. All in all the film was very solid and one of the better ones of the summer so far. If you're a horror fan you'll certainly enjoy it.
THE BOTTOM LINE
So overall, I liked Drag Me To Hell. It was a nice throwback horror film with enough scares and grossouts to keep me entertained throughout.
Netflix DVD Rentals. Only $4.99 a month. NO LATE FEES; Free Shipping. Try for FREE!