Written by David Guion, Michael Handelman

Directed by Jay Roach

Running Time: 1:50

Rated PG-13
for sequences of crude and sexual content,
some partial nudity and language.

B-
---
THE OPENING
Dinner For Schmucks was one of those movies that had a great cast but was hampered by a predictable story.
THE STORY
When Tim has the chance to move up in the corporate world, he's ecstatic until he finds out he has to attend a dinner at his boss's house. And this is no ordinary dinner. The idea is to find the biggest loser you can and bring him (or her) so everyone can laugh at them. Tim isn't quite sure what he should do, but the allure of a corner office is too much to overcome. His girlfriend Julie is against it and Tim is afraid of losing her to her artist friend Kieran who exudes sexuality out of every pore. Tim randomly runs over Barry with his car and finds out Barry enjoys taking dead mice and turning them into folk art. Torn between his girlfriend and his job, Tim does everything he can to be friendly with Barry but still bring him to dinner. The only question is, will he get away with it?
THE REVIEW
Based on a French film, Dinner For Schmucks had a lot of potential, but at the same time was limited by its story. While I imagine a European version of the film would go all out and make the Tim character just outright mean-spirited and willing to do anything to win, an American version has to be toned down. Especially if you want to make money off of it. No one is going to pay to see Paul Rudd torment Steve Carell. And so you had the predictable element of Barry being an idiot but having a very sad undertone to his character. So while Tim wants to treat Barry badly, he has to temper his emotions because every so often, Barry says or does something sweet. The dynamic between the two is solid and Carell does a terrific job straddling the line between irritating and kind. Rudd is likeable in his straight man role though in this case a lot happens to him, rather than him making the laughs.

The supporting cast was fantastic, led by Jemaine Clement as Kieran, the crazy artist Julie (played by Stephanie Szostak) curates for. Kieran is one of the crazy yet laid back artists who enjoys having jungle sex with many women and may have eyes for Julie. It's a role that looks like it could have been played by Russell Brand, but Clement makes it his own. Lucy Punch plays Darla, a woman Tim had a one-night stand with a few years earlier, but who is still stuck on him. She's as crazy as they come and her scenes are always funny. And then there's Zach Galifianakis who plays Therman, Barry's boss at the IRS. Therman believes he can control people's minds, and the one person who completely buys into it is Barry. Unfortunately, Barry's wife left him for Therman and that gives Therman even more control. Galifianakis is always a treat and his scenes are equally as funny. Unfortunately he only shows up twice in the film.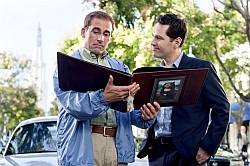 There are a few extremely funny scenes. My favorite involves Tim trying to impress a new client, and Barry trying to impress Tim. It also involves a napkin with some writing on it. It's a quick moment in a longer scene but it had me rolling. The dinner scene, when it finally arrives late in the film, is also pretty funny. And there are a few random conversations here and there that are quite comical. But for the most part, the movie is just so-so. While the characters are good and the actors are strong, the scenes they get put in are sometimes hard to watch. And you can see from a mile away when something is going to go wrong, and how it'll play out. And unfortunately, the actors can't always overcome the scenes. And because these are actors we all know so well, it's also hard to imagine them being as idiotic or, at times, mean as they are. Would someone like Tim really be into a dinner where he had to bring a random idiot with him? Is Barry really that much of an idiot? If they were played by unknown actors I could have believed it. But when you're played by two really likeable actors, it's harder to relate. This is the kind of movie that could have actually been better if you used actors we didn't know and really turned up the heat between Tim and Barry and just let them loose on each other. Instead we end up with two nice guys just trying to do the right thing and that's not enough to hang this kind of story on.
THE BOTTOM LINE
So overall I liked Dinner For Schmucks, but I didn't love it. There were some truly hysterical moments, but there were a lot more ho hum moments. The actors were strong, but the story and the characters didn't give them a lot of wiggle room.