Written by Stuart Beattie

Directed by Mikael Håfström

Running Time: 1:47

Rated R
for strong disturbing violence,
language and some sexuality.

A-
---
THE OPENING
Derailed was a top notch thriller that pushes the boundaries of what you normally see in this kind of film, and then hits you with a twist that'll knock your socks off.
THE STORY
Charles is an ad exec who has a daughter with a serious medical problem. He and his wife save every penny they have to try and get her the treatment she needs. One day he meets Lucinda on the train to work. They hit it off and soon decide to have an affair. But they are in the shock of their lives when their liaison is interrupted by a brutal thief who beats Charles unconscious and proceeds to sexually assault Lucinda. Their nightmare is only beginning. The criminal, Philippe, knows that both Charles and Lucinda are married, and decides to blackmail them, and he's willing to do whatever it takes to get his money, including murder. Charles and Lucinda need to find out how to stop him before he goes after Charles' prize possession. His daughter.
THE REVIEW
When I saw the previews, I thought Derailed looked interesting. It had a very dark feel to it. What I didn't realize is how dark it was willing to go to manipulate your emotions. That sexual assault scene was so vicious it made me uncomfortable to watch and hear. Considering it was Jennifer Aniston, everyone's favorite female friend, you just don't expect to see something like that happen to her on a movie screen. But once that boundary was broken, you had no idea what else Philippe might be willing to do to get his money. All bets were off at that point. You assume these days, that a young, sick girl will be spared any kind of punishment, but now I was wondering, could she really die? I was seriously on the edge of my seat the rest of the movie, not being able to anticipate what would happen next. There were some in the audience who claim to have figured out the ending before the twist happens, and I don't doubt that some people will figure it out, but that doesn't make it any less enjoyable.
Clive Owen did a wonderful job as the beaten down father. Normally this kind of lead character who would do anything to protect his family, tries to be heroic and you see an ad exec who had never gotten into a fight in his life, end up beating up a career criminal. That's not to say that might not happen, but generally, it's unlikely. And it's not like Owen is an unknown name in the business. But he did a great job of looking tough, but being weak on the inside. He could do nothing to protect his family, even allowing Philippe to walk into his house and become friends with his wife and daughter. His entire life spiraled out of control because of a woman he met on a train. Meanwhile, Lucinda was going through her own issues after the attack. As I said before this is Jennifer Aniston. You think happy thoughts, romantic thoughts when it comes to Aniston. She did a great job in a very dark role. All she did was offer to help Charles out to pay for his train ticket and suddenly her life falls apart too.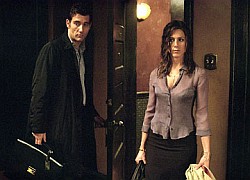 Vincent Cassel played Philippe, with all the menace he could muster with his French accent and gruff appearance. He didn't look like someone who could physically handle Clive Owen, but the rage he had inside and the quickness with which he could unleash it was powerful. There were a few scenes where his anger would show up suddenly and violently, which again, made you wonder how far he would go to get his money. Throw in a couple of fine performances by hip-hop artists the RZA and Xzibit and you have a film filled with terrific performances. Add in a plot that, from what I could tell, had virtually no holes, and you've got a top notch film. After it was all over, I went back through everything and couldn't find anything wrong with the plot. Everything was done with fine precision and while you know you're being manipulated, you still enjoy going along for the ride. I guess my only real problem with the film is that it had a couple of endings. It could have easily ended at one point, but they went on a little longer to make a point, and I thought that was unnecessary. The director, Mikael Håfström, who I've never heard of before, did a great job in keeping the movie tight and to the point, without adding a extra scenes for filler. Except for the ending of course, but I guess even that I can understand.
THE BOTTOM LINE
So overall, I really enjoyed Derailed. It's been a long time since I've seen a thriller that kept me on the edge of my seat throughout. The story was solid and the performances were fantastic.
Netflix lets you rent, watch and return DVDs from home – Now from only a month!