Written and Directed
by Robert Zemeckis

Running Time: 1:36

Rated PG
for scary sequences and images.

B+
---
THE OPENING
Disney's A Christmas Carol was a smart, dark, and visually stunning film that lacked a little bit of fun.
THE STORY
We all know the story but here's a quick recap. Ebenezer Scrooge is a penny-pinching hard-ass who hates all things Christmas. But on Christmas Eve he is visited by the ghost of his former partner who warns him that three more spirits are coming for him. Scrooge is then visited by the ghosts of Christmas past, present and future who take him on a ride through his life. It is both to remind him of what he once was, and also to remind him what his legacy will be if he doesn't change his ways. Scrooge also peeks in on the life of Bob Cratchit, one of his employees, and learns that Cratchit's young son Timmy will likely die because they can't afford medical care. In the end Scrooge sees the follies of his life and vows to become a better person for it.
THE REVIEW
Normally when people recreate the Charles Dickens classic, there is a little more lightheartedness. But then again, this plot has been used by so many people so many times, it has almost become a parody of itself. Disney's A Christmas Carol is a very faithful recreation of the book and therefore is rather dark and kind of scary to begin with. I can see smaller children being afraid of the spirit of Scrooge's business partner, Jacob Marley, when he makes his return. It was very creepy. And then during the sequence with the Ghost of Christmas Future, Scrooge is being chased by maniacal horses 100 times his size. And through it all, Scrooge is terrified of everything around him, so we're treated to a visual of a very old man in a nightgown hovering at the scenes before him. Of course then there's the transformation at the end and the happy ending with Timmy on Scrooge's shoulders as they parade through the town.

As I said, the story is one we've seen in some form or another hundreds of times. It's the darker side of the story that we don't see as often and I liked that. While this then doesn't become a film you can take really small children to, I think older kids will understand and appreciate the moral of the story. What will really capture everyone though are the incredible visuals. I saw the movie in 3D (not IMAX though) and thought the entire movie just popped right off the screen. This isn't one of those 3D movies where things come shooting out at you, instead it's part of this new generation of more subdued 3D but director Robert Zemeckis does do some nifty things with the camera angles where you really do feel like you're part of the film. There are a few sequences where the camera flies through the town, either to show you what the scene looks like, or to take Scrooge on a wild ride through his past and future. It can be a little nauseating for some viewers - the woman next to me had to hide her head once or twice - but it's also like being on a ride at Disney World (do we see A Christmas Carol ride coming soon?) The 3D effects make you feel like you're joining Aladdin on his magic carpet as you fly over the town, in and out of people's lives. And when Scrooge is being chased by those horses, you feel the terror and panic as you try and outrun them, ducking and weaving though obstacles thrown in your way. But even the non-adventurous scenes feel real, especially anything to do with snowflakes. The snowflakes were the one thing that made the 3D feel like it was happening in your lap. You felt like you could reach out and grab them as they slowly fell to the ground.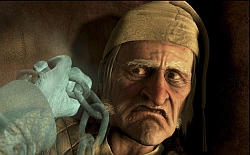 This kind of live-capture animation has come a long way since Zemeckis directed The Polar Express five years ago. Back then it was a remarkable discovery but one that made the characters feel and look a little dead. Now, all the characters come alive. Jim Carrey does the voice of a bunch of them but thankfully you don't really hear his voice all that much, so you can concentrate on the character instead of the voice behind it. The animation of Scrooge was top notch. Each wrinkle on his face stood out and gave him a real depth and realness. The one character that looked almost identical to his real-life counterpart was Gary Oldman's Bob Cratchit. It was eerie how much Cratchit looked like a hobbit version of Oldman. We are coming dangerously close to the day where real actors will be shot completely on a green screen then thrown into a film. The rest of the characters didn't feel as real or like as much time had been spent animating them, but they all moved and flowed like real people. But this entire movie rested on the Scrooge character and he was spectacular.
THE BOTTOM LINE
So overall, I enjoyed Disney's A Christmas Carol. It was dark, yes, but visually stunning. And while a little more humor might have helped, it was still a great film for the holidays.
Netflix DVD Rentals. Only $4.99 a month. NO LATE FEES; Free Shipping. Try for FREE!