DVD Features:
Bonus unaired sketches
Bonus performances by John Legend and Dead Prez
Commentary by co-stars Charlie Murphy and Donnell Rawlings
"The Fabulous Making of Chappelle's Show" featurette
Deleted scenes
Blooper reel

B-
---
THE OPENING
The final 3 episodes of Chappelle's Show are released on DVD and may not have any 'classic' skits, but on the whole are still entertaining
THE REVIEW
By now everyone knows the story of how Dave Chappelle signed a massive deal for a third and fourth season of his hit show, then bailed after it all became too much for him. But before he left, he managed to put together a few skits, which Comedy Central decided to air. It was a little controversial, but I can understand why Comedy Central would want to make some money off their investment. So we now have Chappelle's Show - The Lost Episodes which has 3 full episodes, a few unaired sketches, some deleted scenes and bloopers, a 'making of' documentary, audio commentaries and some musical performances.
There aren't any skits that will go down in history as being the strongest from his show. Past skits like the racial draft and Rick James have entered the universal lexicon. The one where Chappelle plays a black white supremacist is arguably one of the funniest skits ever seen on television. And my all-time favorite is the one where Wayne Brady goes ballistic and starts killing hookers. Just saying that sentence is funny, now imagine watching it. In The Lost Episodes, there are some funny moments, but nothing that people will be commenting on for years to come. The best (aired) skit is probably the Tupac song, which is the last skit from episode one. There, Chappelle and friends are in a club listening to a 'new' Tupac song where the lyrics, supposedly written 'a long time ago,' appear to be very prescient. Visually not much happens, so you have to really listen to the lyrics to understand.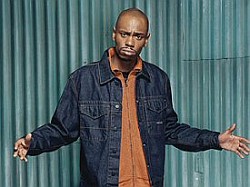 Other skits include a send-up of Howard Dean, which, while funny, feels very dated. There are a couple of sketches that discuss how Chappelle's life has changed because of his money. In one, when people find out he's suddenly worth $50 million, they start charging him lots more money (like $10,000 for a haircut) and when he refuses to pay, they all show him a loaded gun. And in another, he gets revenge on a woman who left him at the altar. Episode two of The Lost Episodes focuses a lot on racial stereotype faeries who try and get the different races to follow stereotypes. Like having a black man order fried chicken, or telling a white man he can't dance. After showing the sketches, they added some filler material by going into the audience and asking their opinion of the skits, because apparently Chappelle wasn't very happy with them and didn't want them shown. It was interesting, but also felt like they needed things to add time to the episode. Instead, they should have shown one of the extra sketches on the DVD where Charlie Murphy takes over for his brother in Daddy Day Care 2. He goes off on a profanity laced tirade against the kids, and that skit was arguably the best on the disc.
THE BOTTOM LINE
So overall, I enjoyed Chappelle's Show - The Lost Episodes mainly because Chappelle is a larger-than-life comedian who is just funny being himself. Some of the sketches were very funny, some were not, but I think even in the first two seasons you had a lot of hits and misses. It's just that in the first two seasons, the hits were out of the ballpark funny, so in comparison, these 'lost' episodes aren't as good.
Netflix lets you rent, watch and return DVDs from home – Now from only a month!