Written by Jeff Stockwell and David Paterson

Directed by Gabor Csupo

Running Time: 2:34

Rated PG
for thematic elements including
bullying, some peril and mild language.

B
---
THE OPENING
Bridge to Terabithia wasn't what I thought it was going to be, but it turned out to be a pretty well made movie.
THE STORY
Jesse isn't a happy kid. He gets picked on in school, has to deal with 4 sisters, and all he wants from his father is a little love and understanding, but even that's hard to come by. One day, a new girl named Leslie comes to school. She's a little different than the other kids and doesn't fit in immediately. She and Jesse quickly take a shine to each other and in an attempt to find some happiness in their world, they fantasize about a new world where they can be King and Queen. In the land of Terabithia, squirrels turn into dangerous creatures, while trees become giants. Together they create a fantasy world where only the two of them can visit. But a tragic event leaves their lives shattered, and only the strength of their friendship can save them.
THE REVIEW
Bridge to Terabithia may have been the first time I went into a movie completely blind. I've never read the book and for some reason, I never saw a commercial for the film. All I knew is that the movie was based on a famous children's book, and that it was created by Disney and Walden Media. I naturally assumed that it was going to be a fantasy along the lines of The Lion, the Witch and the Wardrobe. What it turned out to be instead was a drama about two kids whose friendship turned them from outcasts into royalty. There was a fantasy element in the film, but it was part of their every day lives. Instead of travelling through a closet into another world, instead they imagined that creatures were stalking them or trees were chasing them. It was all in their heads, but their imaginations were so strong, and so in tune with one another, that they could 'see' everything that was happening. It just wasn't the focus of the film.
The two leads, AnnaSophia Robb and Josh Hutcherson were very cute together. Initially they both saw each other as a kindred spirit. Two people who knew what it was like to be an outsider, and that's what brought them together. Deeper feelings started to emerge later, but it never interfered with their friendship. But the love they shared for each other helped later on, when a very sad event took place, one which I did not see coming. For those of you who have read the book and wondered whether the movie would tackle the deep subject matter, it most certainly did (I confirmed this with a co-worker who loved the book.) It came as a surprise to me and there wasn't a dry eye in the house.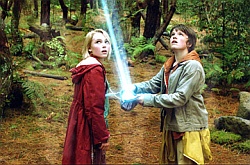 Generally when I go into a movie without any real expectations, I leave feeling the same as when I went in. I didn't care when I walked in, and I don't care when I walked out. But with this movie, I actually felt like I wanted to go back and watch it again. That might have had something to do with the annoying children sitting next to me, one who felt the need to yell out every few minutes, another who felt the need to kick the chair in front of him, and their mother, who felt the need to explain what was happening every so often. Frankly, if you need to explain the movie to your children, don't bring them to the theater. But even beyond that, I really found myself getting into the story. Could it have been deeper and explored more? Of course, but most movies could. The twist that occurred was very sudden, and while the shock value didn't take away from the film, the aftermath could have been played out a little longer. I wanted to see more of the transformation that took place, and how the brother-sister bond grew. When a movie makes me want to go read the book and see the film again, you know it's done a good job.
THE BOTTOM LINE
So overall, I went into Bridge to Terabithia with no expectations and no idea what the story was about. I left feeling fulfilled, and a little sad. Not because the movie was bad, but because it moved me, and I think it'll move you too.
Netflix lets you rent, watch and return DVDs from home - Now from only a month!