Written by William Monahan

Directed by Ridley Scott

Running Time: 2:08

Rated R
for strong violence including some torture,
and for language throughout.

B
---
THE OPENING
Body of Lies was a solid action-thriller that left me kind of wondering what the point of all of it was.
THE STORY
Roger Ferris is a CIA agent on the ground in the Middle East. His handler, Ed Hoffman is an overweight bureaucrat who also happens to be the agent in charge of the Middle East. The two constantly butt heads over how to handle situations with Ferris the one who suffers the consequences. A terrorist organization has been bombing various places in Europe and Ferris and Hoffman are desperately trying to get the organizations leader out in the open. Ferris ends up in Jordan where he tries to get the Jordanian secret service to help. They are led by Hani, a stylish and arrogant man who believes his way is the right way. While Ferris and Hani get along, Hoffman, safe back in the U.S. constantly undermines Ferris which ultimately will lead to a situation Ferris may not be able to escape from.
THE REVIEW
When you have a movie like Body of Lies with such a massive pedigree (starring Leonardo DiCaprio and Russell Crowe, directed by Ridley Scott) who go in with high expectations. Throw in the fact the script was written by William Monahan, who wrote The Departed and expectations are raised even higher. And for the most part, the movie was a pretty solid film by all accounts. Except when I left the theater I had a hard time figuring out what the reason was behind the movie. It didn't take away my enjoyment while watching it, but it almost seemed to me there was no real point other than this is a day (week, month) in the life of a CIA agent in the Middle East.
Make no mistake about it, this film is all DiCaprio. Crowe's part could have been played by just about anyone as all he did was talk on the phone. I'd be surprised if he worked more than a couple of weeks for this one. DiCaprio on the other hand was all over the movie and once again did a tremendous job. How this guy hasn't won an Academy Award yet is beyond me. He is definitely overdue, although unless this movie does boffo box office, he won't win it for this one. DiCaprio has this ability to draw people in to his performance and make his characters extremely likeable even if they're doing horrific things. Or in this case, having horrific things done to them. The rest of the cast fell into step behind him with all the actors having very strong performances.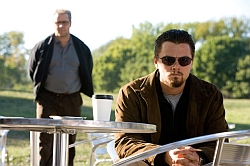 Visually the movie was strong as well. It's got a lot of rough edges around it, making you feel like you're in the middle of all the action. The pace of the movie was good except for one story line which towards the end made a little sense but kind of slowed the movie down in parts. For some reason they had DiCaprio's character fall in love with a local woman after having met her for a few minutes. You kind of expect that sort of thing from a romantic comedy, but not from a war-time thriller. It was a little bit of a distraction from the rest of the movie and only served one specific purpose towards the end of the movie. But that one purpose could have been done in many other ways so other than having an attractive woman in the film, I'm not sure why that story line was added. Take out that entire story and you can cut 20 minutes from the over two hour film and you've got a pretty slick movie on your hands. It is a little strange that I liked most everything about the movie yet I didn't leave the theater feeling like I had just seen a great movie, only a good one. I think it's something worth seeing but it's not the kind of movie that will leave a lasting impression on anyone.
THE BOTTOM LINE
So overall I thought Body of Lies was a decent enough movie with strong visuals and very strong acting, especially by Leonardo DiCaprio. However there is something missing from the movie to make it a truly standout film.
Netflix DVD Rentals. Only $4.99 a month. NO LATE FEES; Free Shipping. Try for FREE!