Written by Analisa LaBianco and Jeffrey Bushell

Directed by Raja Gosnell

Running Time: 1:31

Rated PG
for some mild thematic elements.

C+
---
THE OPENING
Beverly Hills Chihuahua was a very simple and dumb movie but still kind of cute especially for dog lovers.
THE STORY
Chloe is the apple of her owner Viv's eye. She has Harry Winston diamonds around her neck and is carried in a Louis Vutton bag. When Viv has to rush off on a business trip, Chloe is left with Viv's neice Rachel, who doesn't have the same affection for her. Rachel and her friends take off on an impromptou trip to Mexico and Chloe is taken along. But once there, Chloe escapes and is dognapped and taken to Mexico City to take part in dog fights. There Chloe meets Delgado and other dogs in a similar situation. Delgado saves her from certain death at the hands of El Diablo and together the two of them try and get Chloe back to Beverly Hills. Meanwhile, Rachel, along with the landscaper Sam and his dog Papi (who is in love with Chloe) also embark on a madcap trip around Mexico to find Chloe. In the end, Chloe learns what it means to be a Chihuahua.
THE REVIEW
Let's face it, Beverly Hills Chihuahua was never going to be a great movie. But it did have its charm (enough so that I've sat through it twice.) First off, if you love dogs, you'll enjoy the movie. There are all sorts of 'aww' moments during the movie and enough dumb humor to make you laugh. The story is very simple and basically deals with a dog trying to get home. I'm pretty sure we've heard this story in both human and animal form many times in the past. The real draw of the movie is the talking dogs so if you can handle that, you'll like the movie. I wasn't a huge fan of Drew Barrymore as the voice of Chloe but everyone else, including Andy Garcia and especially George Lopez were pretty good. Jamie Lee Curtis seemed almost too perfect a fit as the over-the-top owner, and Piper Perabo is adorable as always. The movie is very clean and PG so it's good for the entire family.
The special effects were decent enough and some of the extras show what it took to make the movie come alive. I'm not sure where the movie was shot, but the locations seemed pretty spectacular. Whether it was the mean streets of Beverly Hills, where it looks like you need a platinum card just to walk on the sidewalk, to the down and dirty streets of Mexico City, the movie did a good job of transporting you to different places. There is one scene in the desert which was both visually stunning and ridiculous at the same time. Apparently in the heart of Mexico there is an area where Chihuahua's live on their own from the time they were created. Yes, thousands of small dogs in their own little temple area. What they survive on was never explained but it made for a nice moment when Chloe finally learns that being a Chihuahua isn't all about being pampered and being carried around in a small bag. All in all, the movie is pretty much what you expected it to be from the previews way back when... not a film that will win any kind of awards but still entertaining.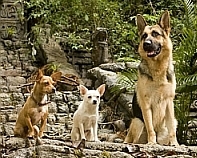 The DVD has a few extras but not a lot. There is director's commentary, which struck me as kind of funny for a movie like this. There are deleted scenes which didn't add up to much. There's a blooper reel, which was somewhat entertaining but also didn't amount to much. Then there's an animated short film about the history of the Chihuahua which was actually pretty good. I kind of wish that one had gone on a little longer. Disney has done this before with the Ratatouille where they put in a history of the rat which was visually entertaining as well as informative. My only other wish is that Disney had put a few other extras on here, but maybe they're saving that for the holidays when they unleash a special edition of the movie to try and entice some holiday buyers. The movie looks good on DVD, which you would expect for a movie shot in this day and age. I'm not sure this is a movie made for Blu-ray buyers, but it's still worth renting on DVD.
THE BOTTOM LINE
So overall, Beverly Hills Chihuahua was a decent movie and one that you can definitely sit through with your kids once or twice. It's not a horrible movie by any means, so don't hesitate to pick it up as a gift, or use it as your child's babysitter.
Netflix DVD Rentals. Only $4.99 a month. NO LATE FEES; Free Shipping. Try for FREE!