Written by Eric Roth

Directed by David Fincher

Running Time: 2:45

Rated PG-13
for brief war violence, sexual content,
language and smoking.

A-
---
THE OPENING
The Curious Case of Benjamin Button was an amazing piece of filmmaking that takes you to a world you never knew existed.
THE STORY
Benjamin Button was born old. At birth he had the same medical problems as someone in their 80s. No one could figure out why, but after being left on the doorstep of a random old age home, he is taken in by Queenie and raised as her own son. Benjamin's extraordinary life is told through his own eyes, and read in a journal by the daughter of a woman Benjamin once loved. From sea faring voyages, to a country at war, Benjamin's life takes him to places he never knew were possible, and all along the way he and his one true love Daisy keep meeting, mostly at inopportune times. How could they have a real relationship when he's getting younger every day, and she keeps getting older? Will their destinies allow them to truly be together, or will fate tear them apart?
THE REVIEW
I was a little hesitant walking into The Curious Case of Benjamin Button mainly because I knew ahead of time it was going to be a very long movie. What I didn't expect was how much I ended up enjoying it. I only checked my watch twice, and once was just to see at what point a certain event happened. Every aspect of the film was tremendous, I'm just afraid that while the movie will get a lot of critical notice, it may not make much money. The movie really has no point other than to tell the story of Benjamin Button. There is no plot to try and find the man who kidnapped the President, there is no ultimate happy ending, the movie is truly just a snapshot of a life. So for people who love movies, they'll love this one. But if you're someone who needs a hook, you might not.
The makeup/special effects were amazing. It looks from the credits like different actors played Benjamin throughout the film, but the faces were always that of Brad Pitt. I don't know if they digitally imposed his face onto the other actors, or if they just used makeup, but whatever they did it was astounding to see Brad's face on so many different people. I know for Daisy they used different actors for her early years and they did the same for Benjamin when he got younger. But as Daisy got older, it was definitely Cate Blanchett behind the makeup. And for what it's worth, Cate has never looked more radiant. Surprisingly, they didn't focus on Benjamin during the years when Putt could have played himself without makeup. A large portion of the movie takes places during his elder looking years.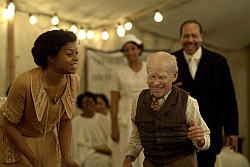 The visuals were equally as amazing. The movie takes place mostly in New Orleans, hopping between present day and the past. Everything was very warm and comforting and looked fantastic up on the big screen. The one aspect of the film that I was very surprised by was the sound. I feel like out of the many Oscars this film will be nominated for, Sound will be the one people don't expect, but from the crackle of a fireplace to the wind howling during a hurricane, the sound on the film was extremely sharp. The story was also pretty interesting. There were moments that I felt were unnecessary and could have been cutout, but at the same time I could tell that this movie could have gone on for four hours and we still would have wanted to hear more about Benjamin's life. Everything we saw helped define his life so that we understood where he was coming from. He has such a bizarre affliction that there's no way he could have had a normal life but the movie was able to show us that without treating him as a circus side show. The supporting cast was just as important as the stars. Taraji P. Henson, who plays Benjamin's adopted mother Queenie, was spectacular. The rest of the cast came in and out of the story but always helped push the stars into the forefront. The director, David Fincher, is not really known for this kind of movie, but he proves that he has the delicate touch needed to do a serious drama that was simply a beautiful story about a man and his extraordinary life.
THE BOTTOM LINE
So overall, I truly enjoyed The Curious Case of Benjamin Button. It's not a movie that I think people are going to rush out and see, but if you're a fan of film, it's definitely one you'll want to watch.
Netflix DVD Rentals. Only $4.99 a month. NO LATE FEES; Free Shipping. Try for FREE!