Running Time: 1:47
Rated PG-13
for language and sexual content.

Starring
Parminder K. Nagra
as Jesminder "Jess" Bhamra

Keira Knightley
as Juliette "Jules" Paxton

Jonathan Rhys-Meyers
as Joe

Anupam Kher
as Mr. Bhamra

Archie Panjabi
as Pinky

Ameet Chana
as Tony

Shaheen Khan
as Mrs. Bhamra

POSTERS

Monsoon Wedding
THE OPENING
I found Bend It Like Beckham to be a very entertaining film. Funny and witty with an engaging cast, the movie was a typical comedy about a girl, her parents and a boy. The only difference being that the girl was Indian and the boy wasn't.
THE STORY
Jess (short for Jesminder) just wants to play football (soccer to us Americans). But being an Indian girl, her parents just want her to learn how to cook and get married. It doesn't help that her older sister Pinky has just gotten engaged, making her parents very happy. But Jess (high school age) isn't thinking about all that right now. She spends nights talking to a big picture of David Beckham hanging over her bed, dreaming about one day playing football for real. Her dream soon becomes a reality as one day, while playing in the park, a nice white girl named Jules spots her and asks if Jess would like to play for a local football team. Jess immediately says yes, even though she knows her parents would never approve. There she meets the team coach, Joe, whom Jules has a crush on but can't act on it because he's her coach. Jess eventually gets caught by her parents and runs into a whole mess of problems, including having people think she's making out with a white boy at a bus station, then having Jules' mother think they're lesbians. Every time Jess's parents catch her, Jess stops playing for a while, but her drive to succeed keeps pulling her back and eventually her parents come to understand that sometimes you need to let go and let your children make their own mistakes.
THE REVIEW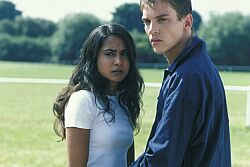 Bend It Like Beckham has done blockbuster business overseas where audiences are more accepting of soccer. David Beckham is an international superstar on par with the likes of Kobe Bryant in this country, but since Americans haven't embraced soccer on a professional level, Beckham is probably best known for being the husband of Posh Spice, and even that isn't saying much over here. The movie was fun. I especially took to it because I understand the Indian culture and how it works. Most traditional Indian parents still would love their sons to become doctors or lawyers and their daughters to marry a doctor or lawyer. The idea of a girl playing soccer for a living, or even for fun, just isn't something they contemplate.

Over the past couple of years there have been a good number of films featuring Indian actors/themes that have come out and managed to go beyond a traditional Indian audience. The one that probably stands out from the rest was the highly acclaimed Monsoon Wedding (quick personal plug, my cousin wrote the film). It managed to show the audience the inner workings of an Indian family but still have an international appeal that went beyond an Indian audience. Another film with a personal attachment is another movie that starred a predominantly Indian cast but still appealed to a broader audience and that was American Desi (a film in which I was a Producer). Bend It Like Beckham walks right along side those films because it's a universal story about family but happens to star an Indian cast. From a personal standpoint I love seeing Indian films breakthrough to a mass audience. I've recently gotten into watching Bollywood films and while most of them are pretty good, they go on forever and an American audience wouldn't be able to sit through a lot of the films. Besides the 6 or 7 dance sequences every movie mixes comedy and sorrow but the sorrow parts can get real depressing and sometimes boring. Although if you want to see two really good Bollywood films I suggest seeing the Oscar nominated Lagaan and Dil Chahta Hai.

The performances in the movie were pretty good for the most part. I got the impression that for some of the actors this was their first major performance because there was some hesitancy in their speaking, as if they were afraid of doing something wrong. But the leads were all outstanding especially Parminder Nagra as Jess. I fully expect to be seeing more of her in the future. Keira Knightley as Jules I read has already been in a major film, no less than Star Wars Episode 1: The Phantom Menace. The music was a cool mix of Indian hip-hop and English dance. It set a good tone for the film. The scenery was so-so. The scenes during the wedding ceremony were interesting to look at but the rest of the look was rather bland. However the story and compelling characters more than made up for any of the flaws in the film.
THE BOTTOM LINE
So overall I would recommend seeing Bend It Like Beckham, but please, see it in a theater or on an official DVD. Bootleggers are the biggest problem Indian films have. It's almost commonplace now for an Indian film to be released in the theater one week then on DVD the next week to combat bootleggers. That aside, the movie is a fun, lighthearted look into the life of one Indian girl who just wants to play football.
---
Got something to say? Say it on the Message Boards. No password needed!