Written by Devika Bhagat & Anvita Dutt Guptan

Directed by Siddharth Anand

Running Time: 2:25

Not Rated

B
---
THE OPENING
Bachna Ae Haseeno was a strangely mean-spirited movie that still somehow managed to make the male lead appear endearing.
THE STORY
Raj is your stereotypical guy... he's only really interested in himself. At the age of 18 he meets Rahi on a train trip through Switzerland. After a whirlwind romance the two seem to be falling in love. But when Raj meets up with his guy friends and tells a sordid tale, Mahi runs off, heartbroken. Fast forward a few years later and now Raj is living with his girlfriend Radhika. The two seem happy but when the idea of marriage is put on the table, Raj turns tail and not only leaves Radhika at the alter, but leaves the country altogether. Fast forward a few more years and Raj is now living and working in Australia. He meets a beautiful cab driver named Gayatri and soon they fall in love. This time Raj is in it for the long run, but Gayatri has other ideas and she leaves Raj in the lurch. Raj, now understanding the pain he caused in his past, must seek forgiveness in order to become a better person and hopefully win over Gayatri.
THE REVIEW
I had no expectations walking into Bachna Ae Haseeno. I haven't seen a Bollywood film in a long time and although the lead stars, Ranbir Kapoor, Bipasha Basu, Minissha Lamba and Deepika Padukone are fairly well known in the film business, I had only heard of Bipasha and even then I wasn't sure from where. I couldn't even remember the name of the movie if you asked me to. However my cousin who was here visiting from India was extremely excited about the film. What I found was a movie that actually surprised me with its ability to take a really nasty character (Raj) and even though he really mentally tortured a couple of women, he was still likeable. The movie was broken down into three parts, as the three ladies from his life never crossed paths. The first story with Mahi was a little strange because she took it really hard when he was talking with his guy friends. They were 18 and her entire being was caught up in this guy who she had known for a day. I understand she had this idea built up in her head of the ideal man in her life, but for it to play on her soul for over a decade was a bit much. When we meet her again after all those years, when Raj goes to seek forgiveness, Raj's actions still affect her and that was a bit over the top for me. I did like how it was all resolved and the inclusion of her husband so while I didn't understand her reactions, the story ended up well enough.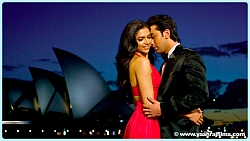 The second story was with Radhika. The two of them met and moved in together and were a couple for well over a year. Then suddenly Raj has the chance to move to Australia and when Radhika wants to join him, his mind starts to think of being tied down. Leaving her in the rain on their wedding day was again, a bit over the top. Now her reaction to him when he comes back into her life, I can totally understand. That kind of devastation can't be forgiven easily. Turning him into her own personal slave was a bit odd, but it worked. His willingness to do whatever she asked was bordering on being silly, but his personality helped push it through.
And finally there was Gayatri, the one who turned the tables on Raj. She said right from the moment they met she wasn't interested in marriage and I knew immediately they eventually she'd change her mind. I thought for a moment as the film came to a close that maybe she's stick to her guns and really make this movie different, but this is after all a Bollywood romantic comedy so there had to be a happy ending. I guess it turned out OK as she seemed to be the one he was most compatible with.
All the actors were likeable and all had the same skill level so it wasn't as if one actor stood out from the crowd. The music was decent with 'Khuda Jaane' being the standout song (as I'm currently listening to it on my computer). There wasn't a lot of singing and dancing (I can remember maybe 4 performances?) so in that sense it was light on the music, but that's quite OK with me.
THE BOTTOM LINE
So overall I ended up enjoying Bachna Ae Haseeno. It started off very mean and Raj was not a nice guy, but I liked the idea of him going back to make amends for his past and having that karma pay off in the present. It's something more people should consider.
Netflix DVD Rentals. Only $4.99 a month. NO LATE FEES; Free Shipping. Try for FREE!