Written by Steven Zaillian

Directed by Ridley Scott

Running Time: 2:37 (theatrical) / 2:56 (extended)

Rated R
for violence, pervasive drug content
and language, nudity and sexuality.

A-
---
THE OPENING
American Gangster was a great movie that suffered only from an extremely long running time and some unanswered questions.
THE STORY
Frank Lucas grew up in Harlem, mentored by Bumpy Johnson in the ways of life. When Bumpy dies, Frank decides to try and take over control of the streets. He sets up a deal to bring pure, uncut heroin into the city and sell it cheaply. Very quickly he makes a lot of money and becomes the undisputed King of Harlem. But with his ascension to the throne comes trouble from every angle. Other dealers want him dead. The Mafia wants him dead. Corrupt cops shake him down for more and more money. And one clean cop, Richie Roberts, is hot on his heels to try and bust him. Richie is apparently the only clean cop on his force and is soon exiled because of it. He then heads a division of a federal drug task force whose goal is to take down the top level players in the drug trade. Richie and Frank will soon meet but not before both go through a lot of tragedy.
THE REVIEW
When American Gangster first came out, I had it pegged as an instant Oscar-caliber film, even though I never did see it in theaters. Obviously that didn't work out as I had imagined, although after seeing the film I believe it was stronger than a couple of the Best Picture choices. First off there were the performances. I mean let's look at this... two actors in their primes, both Academy Award winners, facing off against each other. For most of the film they're kept apart but then it all comes together at the end and you see the two of them face to face in an interview room. It really was fascinating. You know they both are alpha dogs but it seemed as if Russell Crowe was willing to take a backseat to Denzel Washington. Washington is arguably the best actor of his generation and always has a commanding presence, no matter the film or the situation. The role of Frank Lucas felt like it was written for him. Here's a guy who quietly sat in the background, learning from his mentor for 15+ years, but when he had the chance to take control, he grabbed it and never looked back. Washington isn't always the biggest physical guy on screen, but when people bow to him, it's always understandable.
Crowe on the other hand gets a lot of his attitude from real life press accounts. Throwing phones at people, having tantrums on set and the like. He's got a complete bad boy image, but on film he can be surprisingly vulnerable. In the scenes with Josh Brolin, who plays the most corrupt cop I've ever seen, Crowe looks scared and intimidated. It's not something you really expect from him, but his performance is extremely believable. The more the movie rolls along, the more Crowe's character gets strength and it all comes to a head in the interview room with Washington. And speaking of Josh Brolin, has that boy had a great end to 2007 or what? Between his role in this film and of course No Country For Old Men Brolin's had an amazing career resurgence. He was truly frightening in this film.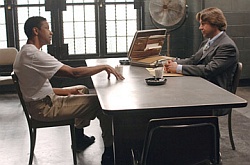 My biggest problem with the film was the pacing. Now granted, I watched the extended cut which was 15-20 minutes longer than the theatrical version. Since I never saw it in theaters, I can't say for sure which scenes were added so I'm guessing the flow of the movie was a little quicker theatrically. But with the extended cut, there were times where a lot was happening, but not necessarily needed to move the story forward. At almost three hours there's no question the movie could have been a little shorter. I'm not against length in general, but I feel if you're going to be that long, more should be explained. Maybe some background on the two main characters. We're more or less thrown into the story without much explanation. How did Frank Lucas end up in Harlem in the first place? His entire (very large) family was from North Carolina. What brought Frank up north and how did he end up the right hand man of the most powerful person there? What made Richie Roberts such a stand up cop, when in the rest of his life he was, let's just say morally challenged? I think a little more background would have helped me understand the motivations of both the leads. I also wonder what this film would have been like in the hands of another director. I have nothing against Ridley Scott, but all of his films have a certain gloss to them. No matter how dark the subject matter, there's still that feeling that you're watching a Hollywood film. If you had someone grittier, like an early Martin Scorsese I have a feeling this movie could have been even better.
DVD EXTRAS
The interesting thing about American Gangster is that there is no single disc version. There are only the 2-disc and 3-disc editions. I have the 2-disc edition. The first disc has both the original theatrical cut and the extended version. The extended version, as mentioned earlier, has 15-20 minutes extra footage, including something billed as an alternate ending. I did go to the theatrical version to see how that one ended, and the extended version's ending isn't alternate as much as it is, well, extended. It basically adds 5 minutes to the end of the movie, but gives an insight to the two lead characters that I found very interesting. There are also a couple of documentaries, one long one on the making of the film and other shorter ones that go deeper into how the film went from script to reality. All the extras are definitely worth seeing.
THE BOTTOM LINE
So overall, I enjoyed American Gangster. I thought it was truly one of the better films of 2007, and easily better than a couple of the other Best Picture nominees. The real draw to the film is watching two heavyweight actors in their prime lead two halves of the film, then come together at the end. This DVD is certainly a must-own for any collection.
Netflix DVD Rentals. Only $4.99 a month. NO LATE FEES; Free Shipping. Try for FREE!