Written by Vidhu Vinod Chopra

Directed by Rajkumar Hirani

Running Time: 2:44

Rated PG-13
for thematic material, some disturbing images
and crude humor

B
---
THE OPENING
3 Idiots, Bollywood's biggest blockbuster, was a movie that will make you laugh, make you cry and at times, make you cringe.
THE STORY
Raju, Farhan and Rancho are best friends at the most prestigious University in India. Though all are smart, Rancho is far and away the best in the class even while constantly butting heads with the head of the school, a man they not-so-lovingly call Virus. Together, the three suffer through happiness and sadness and a competition against the full-of-himself Chatur a.k.a. Silencer. While Raju is in school to help support his family - being an engineer is the only thing he knows and wants to be. Farhan has been pushed into engineering by his domineering father. What he really wants to do is become a photographer, but how would that look? Rancho is more of a mystery and once they leave school he disappears. Years after graduation Farhan and Raju get a call that Rancho has been found, and during their road trip to track him down, they flashback to all the times they had together, from pissing on Virus's door, to Rancho's love affair with Pia, to the time Raju almost killed himself. But will their reunion be a happy one? Or just another bump in the road?
THE REVIEW
| | |
| --- | --- |
| I first saw 3 Idiots a couple of years ago but the subtitles kept coming in and out so I wasn't 100% sure what was happening, but I was 95% sure, which is one of the reasons I liked this movie. So much was given through action rather than dialogue that you could enjoy the movie even if you didn't understand them, or can't keep up with the subtitles. The movie, like almost all Bollywood fare, is way too long. An Americanized cut of this film would have been ideal because you could have cut the fat (even beyond the musical sequences) and come up with a nice, clean two hour movie that moved along at a good clip. Still, even with its immense running time, the movie flowed pretty well. It bogged down once or twice, but the likeability of the actors helped. Aamir Khan is easily one of the most likeable actors in Bollywood. I don't think I've seen a movie with him where I didn't find him enjoyable. The rest of the cast was strong as well, from friends to enemies, with no one going too over-the-top in their roles. The story sometimes got a little out of hand, but the actors never did. | |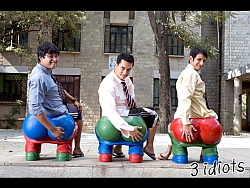 First off, the movie is very funny. The character of Virus is amazingly unlikeable but still someone I kind of enjoyed. So anytime he was involved I was almost cheering for him to win, even though Rancho often got the upper hand. Rancho's character was easily the most funny just with his simple ideals that should have been more widely accepted. He had a keen mind and could talk and work himself out of any situation, no matter what it was. From the moment he showed up on campus and took down some upper class bullies, he was always in total control. Until his over eagerness to help his friends backfired on him, but even then a situation occurred that allowed him to get back on top. I thought for a comedy there were a few instances that got too dark - small spoiler here but there are a couple of suicide attempts, one of which is successful. I understood where they came from in the story, but they felt really dark in what was otherwise a kind of happy-go-lucky film. And the reactions to the attempts were almost non-existent so it felt a little incomplete. But all in all, it was a fairly strong movie that could have used a little bit of editing, but is still worth a look.
DVD EXTRAS
There were four extras on the DVD. One involved the filming in Ladakh, which looked beautiful. But strangely most of the documentary was about how it snowed and they had to come back a year later to shoot the scene. Aal Izz Well is about the song sequence in the film. 100% Idiots follows a particular scene they shot at night where they almost ran out of film. And Making of Miss Idiot follows the lovely Kareena Kapoor and how she discovers her character. The extras aren't anything special, though there is some entertainment value in seeing actors when they're not acting. But it's the movie that is the reason to buy this, not the extras.
THE BOTTOM LINE
So overall, I liked 3 Idiots. It definitely falls into the upper quadrant of Bollywood films I've seen over the years.