Written by Jason Filardi

Directed by Burr Steers

Running Time: 1:42

Rated PG
for language, some sexual material
and teen partying.

B
---
THE OPENING
17 Again was actually a pretty entertaining movie that solidifies that this is the era of Zac Efron.
THE STORY
17 year old Mike O'Donnell had it all. Captain of the basketball team, recruited by national universities, and the best girlfriend a guy could ask for. But on the day of the big game, he finds out his girlfriend is pregnant. Mike decides the best thing to do is marry her and start a family. The next 20 years is spent living a life of regret, with his wife finally deciding she's had enough. But when Mike meets a mysterious janitor, he is given the chance to go back to being 17 and set his life straight. But will he make things even worse?
THE REVIEW
| | |
| --- | --- |
| This was only my second Zac Efron film, and the first with him in a lead role and I have to say, he's got all the potential in the world to be huge. 17 Again is the kind of movie that serves as a great launching pad because it's simple but allows the actor to play a couple of different characters. And the script had enough laughs to keep me entertained throughout. Now, I'll forgive some story problems (like, if we jumped 20 years into the future, how are his kids only 17 themselves?) and the obvious problem of how someone suddenly becomes 17. Accept the premise and move on. This movie completely rests on Efron's shoulders and he's more than willing to take that responsibility on. He's got a great cast surrounding him, which definitely helped. Leslie Mann, who seems to be the go-to girl these days, is very sweet and likeable and a great foil for her suddenly teenage husband. Thomas Lennon was fantastic as Mike's grown up best friend who is a true geek but a millionaire geek. Sterling Knight and Michelle Trachtenberg as Mike's kids were decent but definitely background characters. And Matthew Perry was solid as the elder Mike. It was a little hard believing Efron would grow up into Perry, but again, accept the premise and move on. Efron moves in and out of being a father of two and playing a teenager with all the knowledge in the world. He's got a lot of charisma and it's easy to see why people would immediately like him. Let's just hope he makes smart choices from here on out and maybe he'll be headlining a big budget superhero movie someday. Or perhaps that's not something to strive for. | |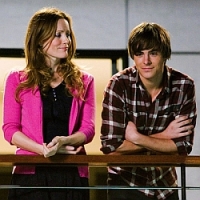 The movie clocks in at 102 minutes, which felt a little long. I mean let's be realistic. Even if you accept the premise and move on, the story isn't that big that it can go on forever. There was a certain lack of focus where you weren't sure what the point of him becoming 17 again was. Was he supposed to help his kids? Make his wife love him again? Learn how to love his wife again? Ultimately I think the movie may have answered all three questions, but the lack of knowing what you were supposed to be looking out for was a problem. The movie played to all the normal high school stereotypes with the promiscuous kids and the jock who liked tying losers up in the bathroom. I thought the basketball scenes were better than typical movies of this sort, and I liked Efron joining the cheerleaders in the beginning. How many stars of his age could do that as easily? There were moments where I thought Efron was bigger than the scene needed, but for the most part he was equal to what was going on around him. And there were definitely moments were I was laughing out loud, especially when he was getting slapped non-stop.
DVD EXTRAS
The DVD I was sent had both the widescreen and full screen versions of the film on it. And that was it. Zero extras, which is rather weird.
THE BOTTOM LINE
So overall, I was pleasantly surprised by 17 Again. It's got a winning cast and some good laughs. Worth checking out.
Netflix DVD Rentals. Only $4.99 a month. NO LATE FEES; Free Shipping. Try for FREE!