Written by Bill Peet

Directed by Clyde Geronimi, Hamilton Luske,
Wolfgang Reitherman

Running Time: 1:19

Rated G


A-
---
THE OPENING
Disney once again opens their vault with the 2-disc Platinum Edition of 101 Dalmatians.
THE STORY
Everyone by now must know the story of 101 Dalmatians with the original evil character Cruella De Vil and her insane pursuit of a coat made out of the fur of dalmatians. But nothing will stop the good old dog network from bringing her to her knees.
THE REVIEW
This review won't be about the movie because if you haven't seen it already, you're way behind the curve. This is one of the all-time Disney classics, now finally available on DVD. And while you may not like Disney's continuing need to 'open' and 'close' their vaults every few years, you have to admit it's an impressive marketing technique. But it wouldn't work if they didn't attempt to add something to every re-release, and DVD opened up a whole new world of opportunities. First off is the most obvious, the look of the film. It is as crisp and clean as you could possibly hope for. One of the DVD extras is a bunch of old trailers from the various theatrical releases. When you compare what those look like to the actual movie on DVD it's like night and day. Animated films in general look best on today's new high-def televisions and Disney animation, even in 2-D, pop magically.
The other major obvious plus of DVD is the ability to add countless extras. It could take you hours to go through all the extras put on here. The sections are broken down for 'adults' and 'kids' so there's something for everyone. For the kids, you can adopt your own puppy and put him through some training sessions. This one is definitely for the kids. You can even learn some words in different languages, which was kind of cool if not extremely slow. The woman doing the voiceover sounds a little like she's drugged.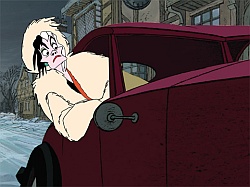 The adult section takes you behind the scenes of the film. We met some of the original animators and hear their stories of how the film was put together. It was fascinating to see the inking process and realizing how much time and effort is put into each and every frame. I'm amazed that these movies only took a few years to make because to do an 80 minute film frame by frame is an extremely tedious and demanding process. But when you see it all coming together it's amazing. We also get to see a background on the creation of one of cinema's greatest villains, Cruella De Vil. I often wonder how long it takes people to see her last name is Devil... Even today she's a truly terrifying character with her wild hair and chain smoking. I imagine really young kids would be scared of her. I also really loved the 101 pop-up trivia facts. When you've seen a movie a number of times, it's fun to be able to see some trivia about it and learn something new. As I said, there are hours upon hours of extras, which is the major reason to go out and get the DVD. No matter how many times you've seen the movie, the DVD extras make it worth the money. Especially since if you don't act quickly, they'll stick it back in the vault for another decade!
THE BOTTOM LINE
So overall, what isn't there to love about 101 Dalmatians? It's not on the top of my all-time favorite Disney films, but it's definitely one everyone can enjoy. And even if you own it on different formats, you have to get the DVD... it's definitely the best way to see it.
Netflix DVD Rentals. Only $4.99 a month. NO LATE FEES; Free Shipping. Try for FREE!