Written by Fran Walsh & Philippa Boyens &
Peter Jackson & Guillermo del Toro

Directed by Peter Jackson

Running Time: 2:49

Rated PG-13
for extended sequences of intense
fantasy action violence, and frightening images

B
---
THE OPENING
The Hobbit: An Unexpected Journey was a decent film, but it didn't blow me away like the previous Lord of the Rings Trilogy. Also, for reference sake, I saw this at 48 frames per second (FPS) in 3D.
THE STORY
A dragon by the name of Smaug has taken over the home of the Dwarves at the Lonely Mountain. Years go by and the Dwarves reconvene because the time is right to try and take their home back. Aided by the wizard Gandalf, they decide they need a burglar to help them enter the mountain and Gandalf chooses Bilbo Baggins for the journey. Along the way they run into all sorts of problems and a few recognizable friends come to their aid.
THE REVIEW
| | |
| --- | --- |
| I've never read any of the books so I don't know how much is filler and how much is taken directly from the pages of the classic tales, but what I do know is, there are some really long, boring moments in The Hobbit: An Unexpected Journey. The opening scene of the film, while beautifully shot, goes on forever. One book into three films I suppose is going to need a lot of filler, especially if they running times of each film will be near 3 hours. It's almost as if Peter Jackson feels like he has to make the movies that long so people feel like they're getting their monies worth. This isn't to say that the movie wasn't good, it just wasn't as thrilling as I hoped. There is something to be said about being transported back to Middle-Earth. It felt very familiar, like you were going home again. And in 48fps it looked clearer and sharper than ever before. But personally, I'm not a fan of 48fps and I really hope this doesn't become the standard. I like my movies to feel like a movie. At times, this felt like I was watching a videogame cut scene, or even a daytime soap opera. Sometimes it even looked like something someone shot on their HD home video camera. Yes, the scenery was spectacular, but the action sequences didn't feel right. To each his own, and there will definitely be people out there who prefer this look, but it wasn't for me. I don't need my movies to look hyper-realistic - I just want them to look like movies. I don't need to be a part of a film to enjoy it. I've seen HD TVs that show movies/TV shows like this and I never enjoyed it because it looked fake. I was hoping that the movie would look better, and some scenes were, but all in all it looked more like I was watching a behind-the-scenes making-of a movie, rather than a movie. And the 3D was good, but like most 3D films it didn't add a whole lot to the enjoyment of the film. | |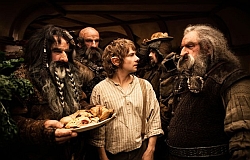 Since this was made after The Lord of the Rings Trilogy, it felt rather dated in the sense that the story wasn't as good. In The Lord of the Rings Trilogy you had a quest to save Middle-Earth from total destruction at the hands of one of the most evil creatures to walk the planet. In The Hobbit you have a bunch of Dwarves trying to get their home back from a dragon. Interesting, yes, but as important, no. In The Lord of the Rings Trilogy you had a couple of Hobbits, a Dwarf, and Elf, a Wizard and some humans, so there was a nice mix of characters. In The Hobbit you have 13 Dwarves, one Hobbit and one Wizard. While they try really hard to have the Dwarves all have different looks/personalities, they all kind of run into each other, and their names didn't help one bit. I wasn't as emotionally invested in the characters as much as I was before. I liked how they tried to tie the two films together by showing the older Bilbo and his nephew Frodo to start the film, and then showing us a couple of other characters later on, but it also felt a little forced (again, I've never read the books so it might have happened like that).

All that being said, the movie - if you've never seen The Lord of the Rings Trilogy - wasn't bad. A little too long, yes, but it was beautifully shot with a lot of tricky camera movements and great action sequences. I'd like to see what this movie looks like in normal 24fps because I think I'd have enjoyed it more, but you can't deny the filmmaking abilities of Jackson. The story, for what it is, also isn't bad - again, when not compared to the previous trilogy - and the idea of a quest is always fun. I liked some of the Dwarves, and Martin Freeman as Bilbo was a treat. And one of the best sequences (which again dragged a little) was when he first meets Gollum. Gollum looks (visually) better than ever and quickly shows his creepy side when the two have a little contest. It was scenes like that that showed off why 48fps can sometimes be a good thing, but I'd still prefer not to watch movies like that.
THE BOTTOM LINE
So overall I liked In The Hobbit, but unfortunately when compared to The Lord of the Rings Trilogy it doesn't live up. Had this film been done first it would have been considered fairly spectacular, but when you're compared to arguably the greatest movie trilogy of all time, you need to go above and beyond and The Hobbit didn't quite make it there.